Los Altos cycle track alters student drop-off and pick-up
Drop-off and pick-up along Almond Avenue or the main Los Altos High School parking lot will not be permitted due to the newly constructed cycle track throughout Los Altos, essentially a broadened bike lane. 
The cycle track — located on Almond Avenue — will allow both directions of bike traffic in one lane, separated from cars by a buffer. It is a safety upgrade for Los Altos, as it will mitigate bike traffic concentrated around LAHS, according to Assistant Principal Galen Rosenberg. 
"The cycle track aligns with the Los Altos 2013 Climate Action Plan, which cited on-road transportation as the largest contributor to community emissions," Green Team President  junior Michael Young said. "Furthermore, it is also consistent with previous Green Team efforts, such as the 2018–2020 Anti-Idling Campaign, which sought to reduce vehicular emissions and pollution in our school and greater community."
Because of the cycle track, there will only be one entrance to the LAHS campus: through Jardin Drive. Students will have to turn left on Jardin and drive down Alicia Way in order to enter the school, according to Rosenberg. 
Below is a visualization of the route that most students will have to take in order to get to school.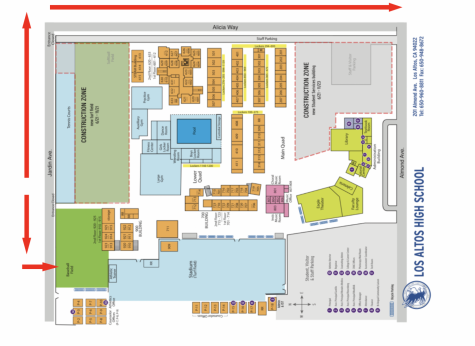 Students who drive themselves to campus will be able to purchase parking permits the first week of school, and are allowed to park on Jardin without a parking permit. 
There will be an additional entrance to the LAHS campus through the baseball field and tennis courts; the entrance is currently closed for construction, but will open later this year. 
"By allowing students a safer method of biking to school, the cycle track encourages students to lead healthier and more sustainable lifestyles," Young said. 
For more information, visit this link.
Leave a Comment