Los Altos Considers Halting Development Along First Street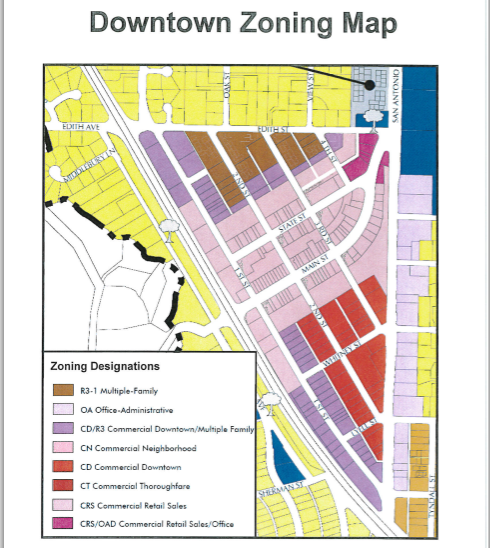 On Tuesday, March 10, the Los Altos City Council failed to pass an urgency moratorium, or a temporary postponement order, that would have halted development along portions of First Street pending review for zoning. Three out of five council members were in favor of the moratorium, one vote short of the four it needed to pass. The moratorium was slated to last 45 days and could have extended for up to a year. Now that the moratorium has been voted down, development will now proceed as planned prior to the moratorium.
The moratorium was intended to serve as a signal that rules for development may be changing; the portions of First Street that it would have affected are zoned as "CD/R3," a designation for higher density commercial and residential housing. This includes most of its two endpoints, but do not include the central area where First Street intersects State and Main Street.
No projects were proposed in the area of the moratorium. Draeger's Supermarket had filed an application to extend their store into CD/R3 zoning, but the relevant areas will be rezoned, meaning Draeger's would not have been affected.
"[The moratorium] gives a message to the people who own property on [First Street]…that things might change," Los Altos Mayor Jan Pepper said before the vote. "It's just good to let people be aware that things might be changing."
The council chose to consider the moratorium after concerns from the community that development along First Street was getting out of hand. Some feel that changes must be made to the zoning, such as the current building height limit of 45 feet.
"If every property on First Street built to 45 feet [high]…that may not be what we want," Pepper said. "Maybe it is, but we need to stop and think about that."
Some projects currently under construction meet zoning requirements, but appear to fail the community's expectations.
"I don't think I've heard anything positive about [the condos at 396 First Street]," Pepper said. "At First and Main, there was a lot of potential to do something really special…[but] architecturally it didn't meet its potential.These projects meet the zoning requirements, but if that's what our zoning is producing, then maybe we need to look at the zoning to produce something different."
At a meeting on February 24, three council-members, including Pepper, voted to draft a proposed moratorium, with two voting against. However, the moratorium needed four votes to pass on the March 18 meeting.
One possible fourth vote was council-member Megan Satterlee, who stated to the Los Altos Town Crier that she would consider supporting the moratorium if the council clarified exactly how the moratorium would end. However she, along with Mayor Pro Tem Jeanne Bruinns, ultimately opposed the moratorium, putting it short of the necessary vote count.
Leave a Comment