Los Altos choirs join Mountain View for "One World, One Voice" concert
The Los Altos and Mountain View High School choirs will be performing together in the "One World, One Voice" choral series in the MVHS theater on Tuesday, October 22 at 6:00 p.m. and 7:30 p.m. The high school choirs will be performing alongside Blach Junior High School, Oak Elementary School, Graham Middle School and Crittenden Middle School. 
MVHS has been conducting this event for over 16 years, but this is the first time the Los Altos choirs are participating in this concert.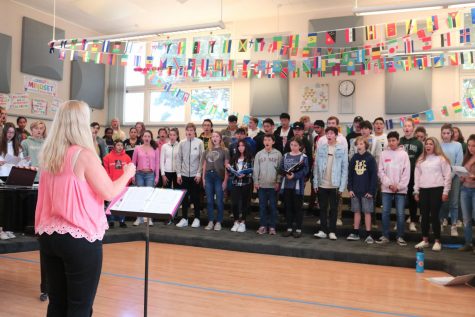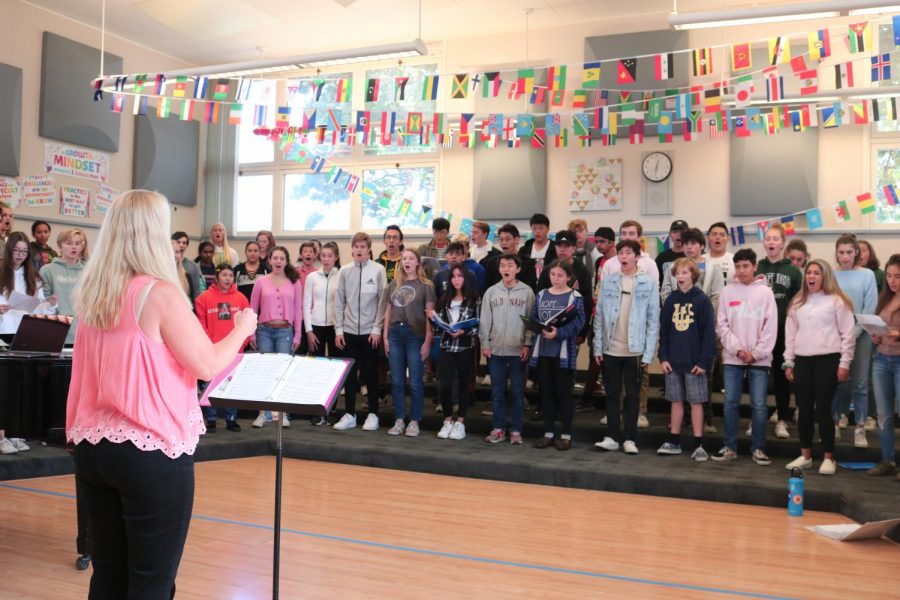 "We want to collaborate with the choirs at Los Altos," Mountain View Choir Director Jill Denny said. "There is room for all of us to be excellent—we do not need to compete; we need to embrace and encourage. [Los Altos Choir Director] Lauren Diez and I are committed to forming long-lasting bonds of friendship and support between the singers in our schools."
All the choirs will perform songs in different languages from around the world such as Maori and Xitsonga. The tickets can be purchased online for $12.
"[The concert is] about coming together and singing," Diez said, "[Choir] has a special way of bringing people together. And with the theme being 'One World, One Voice,' that really ties into the experience I want the students to have. I want them to learn music from all over the world and sing that new music with our friends at Mountain View and continue to build that partnership between the schools."
Denny established this concert to meet singers from other communities—incoming high school students in particular. Denny intentionally collaborates with them to provide a glimpse of the choir program in high school. 
Mountain View sophomore Sophie Lyons participated in the "One World, One Voice" concert every year as a student at Graham Middle School as well as Mountain View. 
"[As a middle school student,] I thought it was really cool to come in and sing with [the high school students]," Sophie said. "We worked together on the same stage to bridge that gap between middle and high school. And when I got to high school, I knew some of the people already that I had met through this concert."
Former Los Altos Choir Director Mark Shaull and Denny organized a concert called "United in Harmony" at the Mountain View Center of Performing Arts for several years until stopping in 2009. 
"We both got busy with our own programs so we did not continue collaborating on the "United in Harmony" concert," Denny said. "[But now] seems like the perfect time to start bringing the choirs together again and to support Lauren Diez as she begins to build her program."
Los Altos senior Elena Atluri has participated in the choir program throughout her high school career. This is the first time she will be participating in the "One World, One Voice" concert. 
"It's a great opportunity for us to show the middle school students that there is a choir program at Los Altos High School," Elena said. "Even though we're so small, we're growing."