Los Altos Alum Alice Wu's Film to Hit Netflix — but that's not even "The Half of It"
Join Alice Wu and the cast Friday, May 1 at 5 p.m. PST for a watch party! Make sure to live tweet with #thehalfofit! There will also be an Instagram Live held on Sunday, May 3 from 12-1 p.m. PST on the @netflixfilm account with Wu, Leah Lewis and other special guests.
Amidst the madness of the past month and a half, I'm sure I'm not alone in saying I've spent quite a bit of time cozying up with Netflix. And hitting the site Friday, May 1 (tomorrow!) is "The Half of It." At first glance, it appears to be like any other rom-com: The nerdy girl Ellie Chu (Leah Lewis), the jock Paul Munsky (Daniel Diemer) and the popular girl Aster Flores (Alexxis Lemire) find themselves tangled in each other's lives, but who will end up with who? In reality, that nerdy girl and that jock are both in love with the same popular girl and, through each other, they all learn just a little more about themselves. Within a week of its release, its trailer garnered nearly 5 million views on YouTube. And its director, Alice Wu, graduated from Los Altos High School in 1986.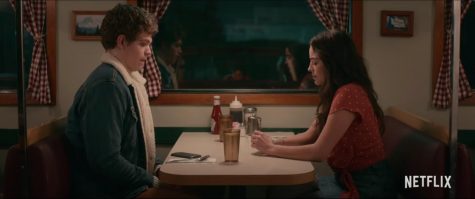 At Los Altos, Wu was in the marching band and participated in yearbook. She had always loved reading and writing but her path to directing was not clear cut. After graduating from Los Altos, she attended MIT and Stanford for computer science and eventually found herself working at Microsoft. Around the time of the internet boom, when nobody "could figure out how to monetize the internet," Wu found herself with more freetime.
"That's when I finally took a writing class at the University of Washington. I ended up writing a screenplay and the instructor said he was interested in optioning it. He eventually said, 'You need to quit your job, move to New York or LA, and learn what it takes to direct this.'"
Long story short, after saving up enough money, Wu made the move. She gave herself five years to get her film made. If things didn't work out, she would still have enough money in her savings to spend six months finding a new job. 
After winning a screenplay contest sponsored by the Coalition of Asian Pacifics in Entertainment, she caught the eye of the president of Will Smith's production company, and "Saving Face" was released in the US in 2005. The film follows the relationship of a young lesbian Chinese woman and her mother, the latter having recently become pregnant as they rediscover each other and themselves. Getting a film made with an almost entirely Asian cast and a script written predominantly in Mandarin even now would be a feat, let alone in 2005. It's safe to say Wu has always been pushing boundaries, both personal and cultural. 
But she doesn't make her films with this goal in mind. She pursues each film with earnest curiosity, aiming only to uncover and amplify honesty and humanity. Wu began writing "The Half of It" when Trump got elected. After he came into office, there was a noticeable surge in racism, sexism and homophobia, as if there was a large portion of the country that had been waiting to openly express it. As "someone who fundamentally believes people are good and that, given the resources, people would choose to do the decent thing," Wu wanted to reconcile these two facts. Were people bad? This question led her to starting a new story set in a small town. But as she dug deeper, the film took on a life of its own.
"If I'm being honest, I grew up in a very conservative Chinese family and we were totally sexist, racist and homophobic," Wu said. "I'm an old Asian dyke and I'm still working on it. I don't believe anyone who says they're not racist. That just means you're not looking hard enough. You grew up in this country, it was drilled into you, so it's just a question of how willing you are to be aware of it and work on it. My parents have ignorant attitudes too, but I believe they're very good people."
And so the film became less of an exploration and more of an outstretched hand, an opportunity for anyone anywhere to laugh and love and maybe learn something along the way.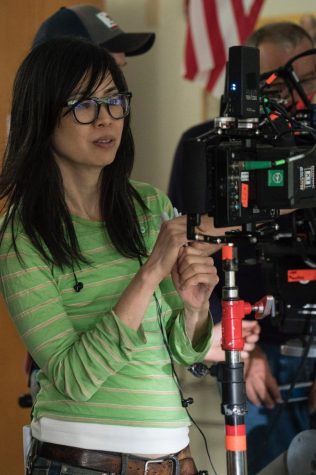 "I'm not a message movie maker. I'm somebody that believes very strongly that the more specific you are, the more universal the story," Wu said. "It's my goal to have anybody be able to watch a film I make and be entertained, but at the end, also think about something they hadn't. For 'The Half of It,' hopefully someone in the middle of the country or someone in a red state might watch this and feel like it's familiar and by the end it makes them think a little bit about that one kid that's coming out as queer or the one immigrant family in their town. Any time I can increase a capacity for empathy, I've won." 
Wu's understanding of and reaching for this broader humanity comes in part because of her high school experience. At Los Altos, Wu interacted with such a breadth of diversity at a pivotal moment in her life. This enabled her to see that we are far more similar than we are different. So, it's no mistake that "The Half of It" is set in a high school, only further exploring and emphasizing her belief. 
"We all think there is an exact kind of person we need to find in life to complete us—our other half—but we're often surprised by the people that come into our lives, and how they end up affecting who we become," Wu said. "For [the three main characters], they're all different in the social caste order. Ellie thinks Paul is the least likely person to change her life. But interestingly enough, he does. High school is this cross section of different kinds of people, and all these different cultures can easily collide."
And of course, with high school there are the "cool" teachers that inspire us and nurture us, push us to achieve our full potential. For Ellie, it's her English teacher Mrs. Geselshap. For Wu, it was her English teacher at Los Altos, Mrs. Geselshap. That's right, ladies and gentlemen, Los Altos (or a teacher from it at least) is featured in a Netflix film!
But in all seriousness, I encourage you all to watch this movie (tomorrow!). If you've read any of my reviews for The Talon in the past three years, you'll know that representation is an absolute essential in a Cathy Wang review. "The Half of It," much like what I said about "To All The Boys," is an important movie in more ways than one. Anyone and everyone can watch rom-coms, especially kids and teens.
Seeing characters like Ellie on screen when you're young and forming perceptions of yourself and the world around you is so important.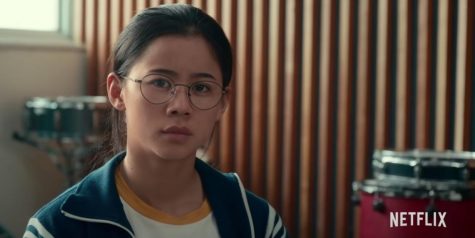 Ellie, who is never made "prettier" with the removal of her glasses, letting down of her ponytail, or swapping of her baggy clothes for a dress. Ellie, who speaks Mandarin with her father in a teen romcom, who is secure in her identity, who is sought after for her bookish-ness, her smarts. Ellie, who doesn't sacrifice parts of herself to be better. To grow up seeing something like that would have undoubtedly changed my life.
Wu put it best when touching on the critiques she received for "Saving Face," specifically that the ending was too "happy": "Am I saying every mother will accept a daughter who's gay? No.  Do I think these characters could get there? I do. But more importantly, I never get to see that. And if I'm making a movie, sometimes you just have to go for it. Because if I never see images of that, how can I possibly believe it can exist for me?"
Having the chance to sit down with the creator of movies that encapsulate all I've ever wanted in film and doing it with humility, kindness and generosity was nothing short of a dream come true. I encourage you to take just an hour and a half (plus 14 minutes) out of your day to watch this movie. You'll laugh, cry and really want to try a taco sausage.