Long-Term Substitute Teaches in Place of English Teacher Out for Medical Reasons
Every school year, new faces appear–those of freshmen, transfer students and new teachers. This year, former Bay Area resident Abbie Christensen is experiencing her first year at LAHS as a long-term substitute for English teacher Arantxa Arriada.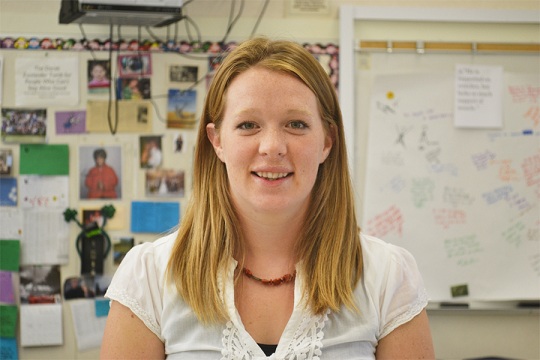 [Photo by Juliet Moore]
After growing up in Menlo Park, Christensen taught preschool before going off to college to pursue a degree in English Education. She then taught seventh, 10th, and 11th grades in Utah before returning back to the Bay Area to receive her Master's Degree.
"There's much more diversity here than where I was teaching before," Christensen said. "The Bay Area is a prime place for me."
Due to medical reasons, several other English teachers have covered for Arriada. Now, Christensen has taken over, teaching Survey, World Literature and American Literature.
Depending on the needs of the school next year, Christensen would be glad to stay for the future.
"I love the community," Christensen said. "Growing up so close, I love the area. All the faculty have been amazing, but meeting the students is what has overwhelmed me because they're so wonderful. I have been really impressed by the caliber of students here."
Leave a Comment