Locker Room Renovations Completed
PE students and athletes walked into new locker rooms on Monday, November 21 after a months-long delay, using trailers behind the school as temporary locker rooms while locker room construction occurred. The new locker rooms include updated facilities such as new showers, benches, windows and rooms off the sides of the main locker room for storage and sports team planning. According to PE teacher Kiernan Raffo, students of all grade levels have had positive feedback for the new locker rooms.
"The students were all very impressed," Raffo said. "I overheard a lot of, 'Wow this is so nice,'… They are all excited not to be crammed in the trailer trying to change and race to their next class."
Sophomore Braden Koch found that the added space of the locker rooms gave him the privacy he needed to feel comfortable changing.
"When we were in the trailers, everyone was crammed next to each other [and] stepping on each other's clothes," Braden said. "But now everyone has an actual space to change, and that's something I am very grateful for."
Previously, students had to take their backpacks with them outside of the lockers to prevent theft in the trailers, where there was nothing but lines of folding chairs. Now with private lockers, students report feeling safer leaving their belongings behind.
"There's a lot more space to put your stuff, so you can feel more secure," freshman Allison Moser said. "You can always lock away your [clothes and backpack], and you don't always have to keep track of it."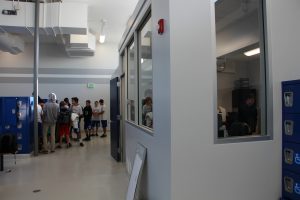 The new locker rooms also give students all their amenities in one place, saving them trips to separate bathrooms or their hallway lockers in between their other classes and PE.
"I like the mirrors, I feel like it gives me more time and space to get ready," freshman Ilsa Askren said. "They have bathrooms in there so you don't have to go all the way across campus."
Although the locker rooms are complete, the side of the girls' locker room facing the basketball courts is still closed off due to the construction of the new fitness center. All construction on campus is scheduled to finish by January of next year.
Leave a Comment