Local Live Music Provides Diverse Entertainment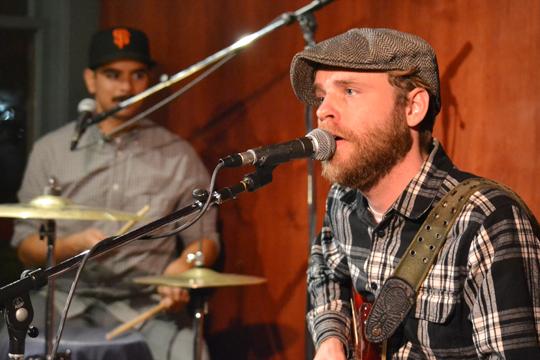 Red Rock Coffee
Known as Red Rock's "artist in residence," Dogcatcher is from Mountain View. Though sometimes Red Rock's live music selection isn't entertaining for everyone, Dogcatcher will unquestionably please all.
For blues rock and indie lovers, Dogcatcher is a breath of earthy air. For anyone and everyone, this band is a nice break from overplayed songs on the radio. Lead vocalist and guitarist Andrew Heine's voice is as smooth as the chai at Red Rock. The band's catchy original songs are fueled by Ramon Esquivel's strong drumming technique. Heine's punchy and reverbed electric guitar accentuates the mix. Bassist Jared Milos' rhythmic, jazzy bass lines complete the sound.
On Monday nights, Red Rock holds open mic nights from for the public. During these events, Red Rock is an interesting blend of spoken word poets, banjo-playing dads and both amateur and professional singer-songwriters. These open mic nights provide a much needed outlet for local musicians by loaning a keyboard, a guitar and a stage to any interested performer. However, most performers come bearing their own instruments, which often leads to a unique evening with performers playing everything from ukuleles to Japanese percussion instruments. On some Mondays, these open mic nights can get crowded, especially during school holidays. Show up by 6:30 to give yourself ample time to get your coffee, sign up to perform, and grab a good seat. However, the crowd should not be a turnoff. There's something about sharing a small table with eight strangers, all there with the purpose of performing and enjoying local music and coffee, that builds a sense of community.
Dana Street Roasting Company
Dana Street Roasting Company is located on—you guessed it—Dana Street, a cross street of Castro. While Dana Street's refusal to accept credit cards may be a turnoff for some, their coffee is worth making a trip to the ATM first. The vibe at Dana Street may make you hide your Starbucks card in fear of being judged by the baristas, but a little pretentiousness never hurt anyone. Avoid their chai and you'll be fine. Dana Street's music palette is somewhat similar to that of Red Rock, with a variety of local and traveling bands ranging from acoustic to jazz to everything in between. Though more often than not, Dana Street's live performances are free to the public. Occasional ticket prices generally don't exceed $20.
Dana Street also has a Monday night outlet for local musicians. On the first and third Monday of every month, Dana Street hosts The Ukulele Club of Silicon Valley's (USCV) "Ukulele Jam." Anyone is welcome to join in, ukulele-bearing or not, for a relaxing evening of island music. The setlist can be found online beforehand, though time will be given to teaching the chord progressions to the beginners. And hey—it's free music—so you might as well check it out, whether or not you plan on joining in. Maybe for a few hours you'll feel like you've been transported to Hawaii. Or maybe you'll feel like you're sitting in a cafe in Mountain View surrounded by ukulele jammers being interrupted by sputtering cappuccino machines. Either way, an entertaining evening is guaranteed.
Philz Coffee — Downtown Palo Alto
Philz Coffee on Forest Avenue in Palo Alto also features an open mic night on Monday nights. This open jam is more casual and less crowded than that of Red Rock. If you're looking for an entertaining evening of music to compliment your coffee, Red Rock is a better option. However, Philz open mic nights are a great tool for beginning performers who want to warm up to small crowds before seeking a larger audience. But don't go on a Monday night in the hopes of winning a standing ovation with your perfectly rehearsed rendition of "Stairway to Heaven"; the mediocre sound setup and half laptop absorbed audience will leave your hard work sorely underappreciated.
Philz rewards anyone brave enough to get up and perform with a complimentary cup of a coffee of your choice. Coffee prices here can be steep—$10 for a large Jamaican Blue Mountain specialty coffee, anyone? — so a free cup of joe should be incentive enough to dust off your slam poetry and wow the crowd.
Leave a Comment