Local folk musician drops debut
On the red-walled, cozy second floor of Red Rock Cafe, local musician Jake Wichman is seeing the fruition of a months-long project and a life-long dream at his EP release show. Once he's lulled his audience with a soft and swaying love song after a lively, energetic opener, Wichman transitions into an upbeat, buoyant number. He concludes with a melodious and reflective ballad, crooning his last words before a standing ovation. Wichman delivered each of his songs in a calm and direct fashion, but raw emotion lay behind each of his words.
Born in Palo Alto, Wichman lived in Australia for five years working for a non-profit youth organization and performing at open mics as a musician. After returning to the Bay Area, he applied for a job as a barista at Red Rock, then became host of the weekly open mic there. Once settled, he decided to pursue a musical career.
"What really made me want to make my own EP was hosting open mic for awhile and interacting with so many talented musicians," Wichman said. "I grew up in a musical family… and it has always played a big part in my life. I started learning how to do little things on the guitar when I was 9 and it progressed from there."
The EP has a folkish, cheery vibrancy to it, with Wichman's soft, friendly vocals accompanied by twangy guitar and steady percussion. Although he grew up listening to 60s bands like the Beatles, Wichman is uncertain about what influenced his sound.
"I just played the chords I knew how to play and came up with lyrics," Wichman said. "I don't know if there were any particular bands I was trying to be like."
Wichman came up with the theme of a relationship for the EP, titled "Ode to Marie," after experiencing a rough breakup, which made the process more natural.
"[For songwriting] I come up with topics of what I want to write about then [it goes] from there," Wichman said. "A lot of the times, [songs] just come. It's never like, pull out a dictionary, [find] what works here, what rhymes."
For Wichman, the hardest part of writing songs and creating the EP wasn't overcoming technical issues but emotionally reliving his experiences.
"A lot of people don't really realize that when you're a songwriter, or any sort of artist, your inspiration can sometimes come from really painful parts of your life," Wichman said. "In my case I got my heart broken by somebody I really cared about. Having to replay all those memories in my head to get the emotion into the songs took a toll on me."
Once he wrote the songs, he set out to recruit a team of people using connections he had gained from the local music scene.
"A guy named Willy Barry heard some of my stuff and told me, 'I love recording people and I want to record you,'" Wichman said. "I recruited my friend Alex Stanley to help out with backtracks…  and another guy named Marty Morillo to engineer and produce the EP."
Initially, Wichman felt reservations about giving other team members free reign, but he came to realize they were as invested in the project as he was.
"An obstacle for me was being able to let things not completely be in my control and trust that the people working with me knew what they were doing," Wichman said. "We all had a common goal…  to make this record the best we could. So… throughout the entire process we did not have a single fight."
After assembling his team, Wichman recorded his songs at Line B Productions in San Jose, then had Morillo mix them and add effects to make the EP more polished.
During the process, Wichman's team influenced the sound of the record to the point that he has trouble recognizing the songs when he plays them solo.
"When I play the songs by myself now they're completely different," Wichman said. "With Alex doing his lead guitar and Will playing percussion, [the songs] were boosted… a lot catchier, more fun to listen to and… more full."
Once completed, Wichman sent the finished audio files to a CD printing service and to a distributing service to get it released on iTunes, Spotify and other streaming platforms. When he received a CD in the mail back from the printing service, he was ecstatic.
"It was one of the coolest moments of my life," Wichman said. "I've wanted to do this for a very long time and to see the final products there and to see a dream become a reality… there's just nothing like it."
Leave a Comment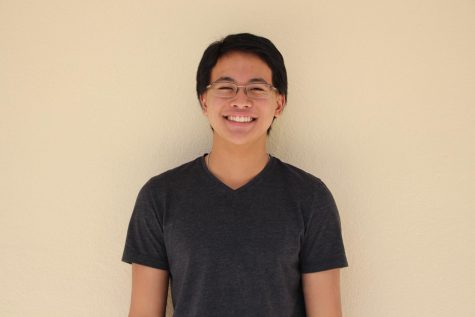 Danny Vesurai, News Editor
Legend says that if you reach deep enough into the inside pocket of Danny's leather jacket, past the hordes of pens and six-sided dice moping dejectedly,...