He's Got Cat-itude: Local Cat Brings Happiness to Los Altos Community
In a way, Willy, the orange and white feline known for repeatedly trespassing on houses in the Almond community, takes after his namesake, Willy Wonka. He's affable, adventurous and sometimes downright weird.
Willy came to Los Altos when the Chmyz family adopted him eight years ago, when he was a kitten originally called Rusty at the Nine Lives Foundation shelter in Redwood City. Fast forward eight years, and Willy has settled comfortably into his role as a neighborhood celebrity as well as school cat to Almond Elementary and Canterbury Christian School.
"He's amazing that he lets the kids swarm him," Almond secretary Jane Sanders said. "He will have whole Girl Scout troops swarming him and petting him and 'oohing' and 'ahhing,' and he just doesn't care. He eats it all up."
The phrase, "There's Willy," isn't said with much surprise anymore. A large part of Willy's fame comes from his habit to show up impromptu at events such as PTA meetings, ice cream socials or Walk-a-bouts.
Last year, Willy stumbled onto Picture Day by accident and had his photo taken and stamped onto a personal ID card. Willy was subsequently named an honorary staff member at Almond, perhaps the first cat in history to do so.    
"He wanders in and out of classrooms all the time," Sanders said. "He comes in and sometimes plays in one of the cubbies in the office. He thinks he owns the place."
Popular as he is, not all aspects of his recent life have been glamorous.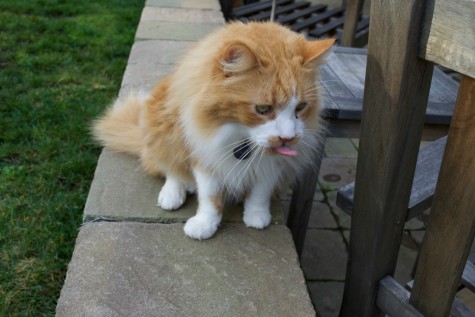 "Once, he was found by two Los Altos kids climbing out of the storm drain on Almond Avenue," Willy's owner Marcia Chmyz said. "So they called me and I came and got this disgusting cat; I mean he was filthy, brought him home and instantly put him in the shower. And we have pictures of him hose-showered because he was very unhappy and stupid-looking, all wet."
Another time, Willy wandered into the cereal aisle at a local CVS, where he was again picked up-this time by Maddie Healy '15.
"She or somebody else took him to Adobe Animal hospital and they chipped him and called me," Chmyz said. "Unfortunately, we were in Barcelona at the time. So I got a call while in a cathedral in Barcelona and it was my cat."
Luckily, Chmyz had made sure that someone else took care of Willy until they returned to the U.S. However much mischief he gets into, Willy has been considerate enough to make amends by offering an abundant supply of lizards, mice and birds to the family.
"We were having a New Year's Eve party one year and he brought in a live mouse," Chmyz said. "[Another time] I had just bought a new tent and he brought a dead rat into it as though he were commemorating it."
On some occasions, Willy shows off an air of generosity that befits the beloved, childish behavior he is known for.
"One year at Almond, an after-school daycare was having a Thanksgiving feast, and they had all the kids bring something to the outside table at the school; and Willy showed up with a rat. That was his contribution to the table," Chmyz said with a smile.
When he's not exploring, Willy enjoys paw-picking pink camellias and delivering them to the Chmyzs' back porch. They're always pink and they're always camellias. And after placing them, Willy lets the Chmyzs' know by letting out a distinctive "Meowrrr" so that his gift can be given the attention he believes it deserves. It's something that has stumped the Chmyz family to this day.
View Comments(1)