Little Mozart: Providing music to those in need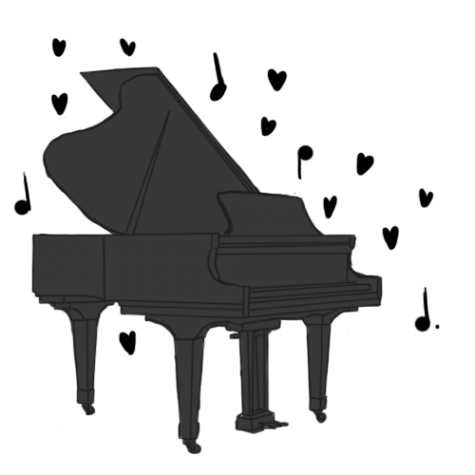 Students sang "Mary Had a Little Lamb" at the top of their lungs while clapping in unison to the rhythm of the song. Joined by their student teachers, seniors Rose and Ray William, the kids then transitioned from singing to theory lessons, tossing around a rubber ball to the tune of Strauss's "The Blue Danube" while answering class questions. Rose treasures moments like this with her students.
"It sounds cliché, but my students are my pride and joy," Rose said. "Being their teacher and friend is the greatest gift of all, because I get to be a part of their transformation."
With over ten years of musical experience, Rose and Ray decided to channel their passion for piano into something more than a certificate of completion. During their junior year, they founded the club Little Mozart to provide musical education to underprivileged students in the Bay Area.
"Once we finished the highest level, we didn't want to have the certificate on our wall not mean anything," Ray said. "We thought that the best way to use our skills was to have other people do piano too. We wanted to share our passion for it."
Little Mozart provides children with student teachers, piano keyboards and music books, allowing children ages 5 to 7 to participate in a free, hands-on 10-week musical curriculum. At the end of the program, the club holds a charity concert for parents and local visitors which in turn helps to fund students' education for the following year. But in creating "Little Mozarts," Ray and Rose have found a host of obstacles.
When first designing Little Mozart's curriculum, Rose and Ray did not anticipate the struggle for students to understand "intuitive" musical concepts.
"We were surprised to discover that the children had a hard time differentiating between high notes and low notes," Rose said. "They thought that if a note was played louder than a consecutive note, that it must be higher in pitch."
Through the process of trial and error, they have modified their teaching style to be more helpful and effective.
"We tried to encourage the participation of shy students [by] mirroring hand gestures when teaching at the front of the class," Rose said. "We've learned that details matter and add up to create a conducive learning environment."
Because most students' parents only speak Spanish, teachers are encouraged to be proficient in Spanish in order to communicate with parents about homework assignments. Students also tend to become restless and lose focus when lessons are not as interactive. To combat this, Rose and Ray incorporate more hands-on activities such as coloring in music workbooks or having students pin magnetic notes to a whiteboard to improve their note-reading.
Beyond their students' musical abilities, Rose and Ray value the relationship they've fostered with their students.
"Some highlights include watching the shyest student simultaneously play and sing 'Mary Had a Little Lamb' at the top of their lungs and receiving crayon drawings and hand picked flowers from my students," Rose said. "These are feelings that can't even be described and memories that will never fade."
As Rose and Ray have grown their program with more teachers and classes of four to five students, they've also noticed a growth in their students' personalities and passion for music.   
"The students' reactions to us pushes us to continue," Ray said. "Just seeing their happiness lets us know that we are having a positive impact."
"Amazing things are created in our classroom," Rose said. "On their very last day of class, I remind myself that though it is the end of our journey together, it is only the beginning of their journey with music."