'Life as We Know It': Cheesy, Yet Entertaining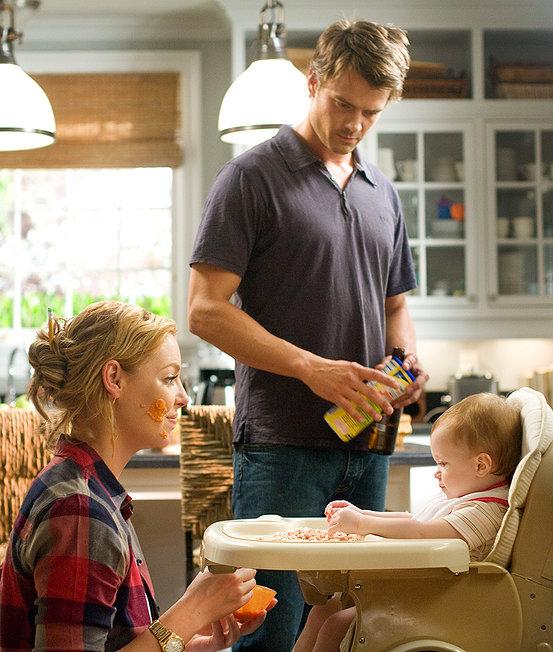 Most people picture a romantic comedy as a movie in which two outrageously opposite people somehow fall in love in a hysterical and unpredictable way. Now, add an adorable baby who not only causes mayhem, but also brings the enemies togther against all odds.
The movie "Life as We Know It" is a romantic comedy about two opposite people, Holly (Katherine Heigl) and Messer (Josh Duhamel), who are set up on a date by their two best friends. Since Messer is an irritating player and TV sports director and Holly is a busy, responsible and dedicated caterer, the date isn't expected to last long. Their first (and last) date goes horribly; Messer shows up an hour late, improperly dressed and without dinner reservations. As expected, they both gladly part ways.
Flash forward a couple of years, and the two enemies are forced to reconvene under the same roof, this time not as dates, but as guardians of their best friends' one year old daughter, Sophie, after their friends die unexpectedly in a car crash. As much as they dislike each other, they don't want to send Sophie off to foster parents and would rather fulfill their late friends' wish of taking care of Sophie.
The challenge: Holly and Messer must struggle with work and money on top of raising a child. As their love for Sophie grows, Holly and Messer's relationship changes. Yes, predictable and cheesy, but also entertaining.
Whether its Josh Duhamel as the roguish player, or Katherine Heigl as the responsible and determined entrepreneur, the actors in this movie tie the comedy and humor in with the struggles the main characters face. Both Heigl and Duhamel get into their characters, and as they evolve, their acting sums up the whole movie.
However, the film moves a little too fast in terms of emotions. When Holly's and Messer's friends die, there's only a brief moment of sorrow. The characters barely get any time to grieve for their friends, because by the next day they're already planning how to take care of Sophie. However, the film's purpose is to focus on Holly, Messer and Sophie, not on Sophie's parents.
The main plot of the movie is a little impractical; since when did enemies decide to come together under the same roof and act as a married couple just for the sake of an adorable baby? But then again, it is a romantic comedy—when are they realistic?
Although it's predictable and a little unrealistic, the movie is funny and entertaining. As the main characters slowly forget their hatred, they understand and respect each other more. The baby is hilarious. Not only does she set the tone for the movie and bring the two enemies together, but she also gives the audience something to laugh about.
Director Greg Berlanti's main goal was to entertain the audience, not to show a hardcore movie about the struggles of the "parents." The director definitely accomplished that, and the movie is filled with a lot of humor. He conveys the movie events in an organized manner that leaves the audience cracking up and wanting to see what else is in store for Holly and Messer.
Although this movie has its flaws, being unrealistic and predictable, the director accomplished his main goal by keeping the audience entertained and enthusiastic.
Leave a Comment