LAHS releases AP testing schedule for the 2020–2021 school year
This morning, Los Altos High School released its Advanced Placement (AP) testing schedule for the 2020–2021 school year. The schedule was created with input from District faculty, students, families and the College Board.
Out of the three administrative choices for AP exams presented by the College Board in February, LAHS selected the third option — fully remote — with tests ranging from Tuesday, May 18, to Thursday, June 10. Unlike the online exams used during the 2020 spring semester, the new digital tests will be full length and cover the same amount of content as their in-person counterparts during normal school years.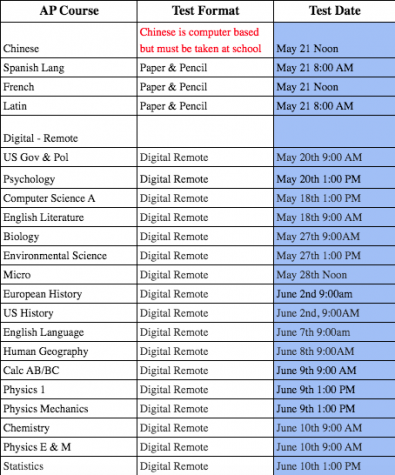 For students who are unable to take the remote AP tests due to factors such as unreliable WiFi or home environments, LAHS will be offering limited spaces for the administration of digital exams on campus; participating students will be required to follow normal coronavirus protocols. More information regarding the limited spaces on campus for digital exams will be available closer to the dates of the exams.
"We understand that a testing schedule has significant impacts on students and families, and that those impacts can vary a lot based on individual circumstances," Assistant Principal Galen Rosenberg said. "Our obligation is to manage the system to make it as fair to everyone as possible, within the parameters that the College Board allows."
World language exams will be the only tests to be administered solely on-campus on Friday, May 21. With the exception of the computer-based Chinese exam, all world language exams will be traditional pencil-and-paper tests.
Teachers will continue working with the administration to avoid any conflict between the finals and AP testing schedules. More information on the AP schedule and finals week will be disclosed approaching the testing period.
"We will be discussing how to handle finals soon with the Department Coordinators and teaching staff," Rosenberg said. "We will definitely have a plan in place to balance the needs of students taking AP exams and assessments at the end of the year."
On Friday, March 26, LAHS released an update regarding digital Advanced Placement (AP) testing for the 2020-21 school year. Per the unusual circumstances of this school year, students can still cancel their AP tests for a full refund through their Total Registration accounts using this link.
In response to the questions regarding digital testing, LAHS cited the College Board's document on digital exams, stating that the difficulty between the in paper and digital exams is negligible, and that the exam would be viewed by psychometricians to ensure equity between the two exam versions.
Monday, March 29: This story has been updated to include information pertaining to test cancellation and equity between in-person and digital exams released by the LAHS administration on Friday, March 26.
Leave a Comment