LAHS Debationships
December 14, 2019
Debate is one of the most important parts of these people's lives, and the relationships they have with their teams and partners make it all the better. As the team takes a break for the holidays, The Talon takes a moment to recognize some of this year's most impressive partnerships.
LUSH: Angelina Lue and Henry Shi
When you hear the word Lush, you may think of the cosmetics store with jelly soap and face masks galore. But there's another Lush that is equally notable at Los Altos: the Parliamentary (Parli) debate partnership made up of juniors Angelina Lue and Henry Shi.
While Angelina and Henry are extremely successful as a team, they don't actually follow a typical MVLA style.
"Stylistically speaking, I would say we're just more modern," Henry said. "MVLA probably has had a tradition of being conservative with their debating style."
Modern debate is a technical manner of debating defined by theory and Kritiks, which use the rules and norms of debate to justify winning a round. A more conservative style, such as the normal MVLA style disregards this and simply debates on arguments.
This style, which can often be hard to master and understand, come from no lack of hard work from Angelina and Henry. But this work has culminated in successful debates.
Despite how in-tune Angelina and Henry are, this is only their second year debating together. In the beginning, they were awkward. The two became partners on accident, and due to this, they didn't really know each other. What's more, Henry had two more years of experience than Angelina.
"Coming out freshman year and being [new to debate] did affect our relationship," Angelina said. "I was thrown into varsity."
Although the chasm was huge at the beginning, it does not affect the pair much now, as time has brought them closer together. Over the year, they've gotten closer, trusting each other more and more.
"[I enjoy] getting to run cool arguments… [and] having inside jokes together was pretty dope," Angelina commented.
Today, during debate rounds, each of them has a role that allows them to efficiently navigate arguments and speeches.
"For example, I do the strategy, choosing what we're going for," Angelina said. "And then he focuses on responses."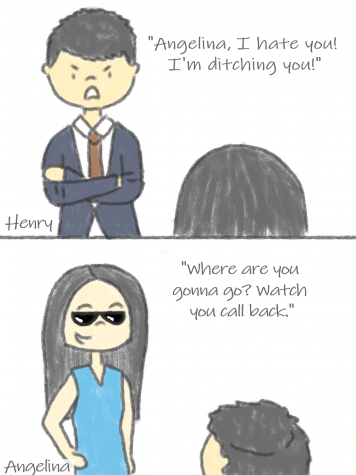 Yet they've faced no shortage of troubles of finding a useful and comfortable dynamic.
"I think that I tend to be more dominant but I and Angelina see that as a product of the gender dynamic, so we try to avoid that whenever possible," Henry said. "Equality is pretty important [to us]."
However, outside round, Angelina is far more energetic than Henry, who tends to burn out more easily. In order to keep Henry's spirits up during tournaments, Angelina gives him pep talks between round.
"I like someone keeping me grounded and keeping me going," Henry said.
The only thing that keeps him awake is… bread puns. Henry and Angelina often come up with a variety of bread puns, such as "bag this baguette" and "reap this rye".
"We make a lot of corny jokes, it's kind of awful," Henry admitted. "I would feel bad for someone who had to listen in on our conversations."
The fundamental beauty of their partnership is how they've turned an accident into an excellent, tight-knit relationship.
GAGE: Gage Garcia
The MVLA Lincoln-Douglas(LD) debate team is a tight-knit family. They constantly work together, and they are bound together by a necessary sense of belonging.
In fact, they may be the closest of the debate teams at MVLA, likely because LD debate is made up of singular people, not partners like the other events.
And that is where we meet sophomore Gage Garcia, a first-year LD debater with a past in Parliamentary (Parli) debate.
"The philosophical aspect of LD was really interesting, and I like the freedom of not having a partner," Gage said. 
What is impressive about Gage is his record this semester. At his second LD tournament, Stephen Stewart Invitational, he reached the finals round, placing higher than any other MVLA debater at the tournament, regardless of category or age.
To put that in perspective, few MVLA debaters ever reach finals at any tournament. Gage changed debate styles entirely, and swapped to the higher-level version of his new debate and almost immediately reached finals.
"I didn't actually have any expectations going into Stewart, but I was practicing a lot and I didn't really care, I wasn't planning on doing well," Gage said. "It was actually a pretty big surprise when I ended up being successful."
And further, Gage never expected to enjoy debate as much as he did.
"I found it exhilarating and just really interesting," Gage said. "The people who do it with me make it even better."
Those people are the LD team, a group of around ten active students.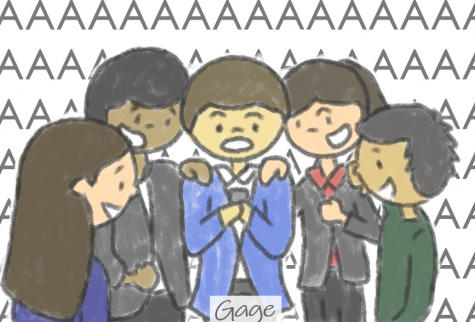 "[We are a] smaller team," Gage said. "We have a much closer relationship, I presume, with the coaches and the people… it's really helpful to have people to assist you and it's pretty necessary in my opinion."
As a newcomer, Gage found LD welcoming due to the team, which has a family dynamic. They often prep together and are caught doing some very interesting activities together, such as tournament relay races. One example is when they screamed at a phone app because on the app, the louder you screamed, the higher the character jumped.
"You would think [a single person debate] would be lonely, but the LD team is very closely knit and collaborate a lot," Gage said. "I haven't actually been lonely."
FRANYAN: Franklin Ruan and Jiayan Luo
Seniors Jiayan Luo and Franklin Ruan are married, according to their Facebook status. Although they're not married in real life, they're still close friends bonded by hours upon hours of debating together. The two have often spent ten-hour days with each other, ending up at a Taco Bell at 3 a.m., crying over their losses.
"We've peed more with each other in bathrooms than with any other person," Franklin said.
Franklin and Jiayan are colloquially referred to as Franyan by the debate team and are a nationally-ranked debate partnership in Public Forum (PF). They've grown exponentially as a team since they began debate two years ago.
In August 2017, Jiayan wasn't the buff bodybuilder he is now and Franklin was a failed basketball player with tendonitis. So when they joined debate, neither expected success. Yet at their first debate tournament at Santa Clara University (SCU), they reached elimination rounds.
"We were so happy that we ran up and down the hallways of SCU and we got kicked out of Pizza My Heart [for screaming so loudly]," Jiayan said.

Franklin credits this first taste of success as their dip into debate. If they hadn't broken, they may have quit debate altogether, which would be a shame for the team as Jiayan is now the Speech and Debate president and Franklin is a Public Forum captain.
Over the years, they've bonded quite a bit outside of debate. They've taken long walks together and spent about 100 unproductive hours watching the Bachelor. 
Luckily, it brought Franklin and Jiayan closer.
"I've seen Franklin more than my mom, some months," Jiayan corroborated. 
As extremely close friends who spend many hours together and wear the same shoes (Allbirds) and take almost the same classes and both "wear shirts", they do have a lot in common.
"Debate can be like, a multiplier or a magnifier," Franklin said. "If you hate each other and you become debate partners, it exacerbates that. But if you guys are already close friends and then you have successes or failures, it's going to bring you closer."
This is exemplified in rounds, where Jiayan and Franklin rarely verbally communicate, almost always understanding what the other wants to do. Instead, they strategize before the round even starts and adjust based on speech, rarely needing to actually speak aloud unless it's for clarification.
"It kind of feels like we're conjoined twins," Jiayan said. "Except we can separate. And have separate thoughts."
SHAURYEVAN: Shaurya Kadiyala and Evan Lingo
Freshmen Shaurya Kadiyala and Evan Lingo have had a tumultuous and irregular experience with debate. They've done a total of five different debate programs in five years, each with different coaching styles, yet they've thrived in almost every one of them, culminating in this year, where they primarily do Parliamentary(Parli) debate. This October, they went to elimination rounds at the National Parliamentary Debate Invitational, which is nearly unheard of for freshmen.

But to go back to the beginning, Shaurya and Evan met in third grade at Santa Rita Elementary School, and have been close friends ever since. They're even best friends (if you can have multiple best friends).
"When we first started at [Golden State Speech and Debate Academy], our coach said that our friendship was going to fall apart because we were going to get so mad at each other about everything," Shaurya said.
They did their first real event together in seventh grade, which was Duo Interpretation (Duo), the speech event in which two people perform a ten-minute excerpt from a book, movie or other work of writing. However, the partners can't touch or look at each other for the full ten minutes.
Despite this ominous warning, Shaurya and Evan continued on with Duo and remained friends. Afterward, they decided to try out parliamentary debate(parli) and went to a summer debate camp together.
Now, they're considered a highly successful parli team because of their friendly, healthy relationship.
"I think [being friends] probably made it better, at least towards the beginning," Evan said. "I think that was an advantage we had going in because I knew him before debate, which means I kind of had an idea about his thought process beforehand."
But they don't have the best habits. Often they'll do all their preparation for their forty-minute round in the last five of the twenty minutes they have.
This truly came into play when they ran a practice round against each other at a scrimmage, as mavericks, or single debaters competing in a partner event.
NATALLISON: Natalie Tran and Allison Hong
If seen outside debate rounds, junior Natalie Tran will probably be gesturing aggressively and talking with her distinct loud voice. On the other hand, junior Allison Hong will be fidgeting a bit, talking so quietly you can barely hear her.

On the Public Forum (PF) team at MVLA, Natalie and Allison are colloquially referred to as Natallison. But while debating, they swap personalities entirely: Allison is loud and dominating, while Natalie tends to be quieter to compensate. This is likely a product of the friendship they've had over many years, flowering into a debate partnership that began in their freshman year.
Natalie and Allison first met in fourth grade at Santa Rita Elementary School for an extra credit math project. They made a parody of Sia's song "Chandelier" and called it "X, Y and Z." Since then, they've remained friends. 
Natalie is "short and angry," as Allison describes her. She is the fire to Allison's ice, so to say, while Allison is taller and calm, a pacifying presence to Natalie's fiery personality. Their peculiar dynamic has taught them how to work with different types of people.
"I think it's good that we've been able to work with each other because we are so different," Natalie said. "Being able to find that middle ground and work successfully with each other has obviously been really rewarding for me."
The two have a comfortable dynamic. Allison and Natalie are completely unsurprised by anything the other says or does, even the exhaustion-addled things Natalie says during tournaments. This relaxed relationship has fostered considerable trust between them, which has improved their debate skills considerably.
"We're both very outspoken about what we think the other should improve on," Natalie said. "I think it's both good and bad that we're able to communicate about that. It's like a love-hate relationship where we hate hearing it, but we also need to hear it sometimes."
Natalie and Allison have been a team at every tournament they've ever gone to, and because of this, they have a couple of habits they use as a team that no one else knows about.