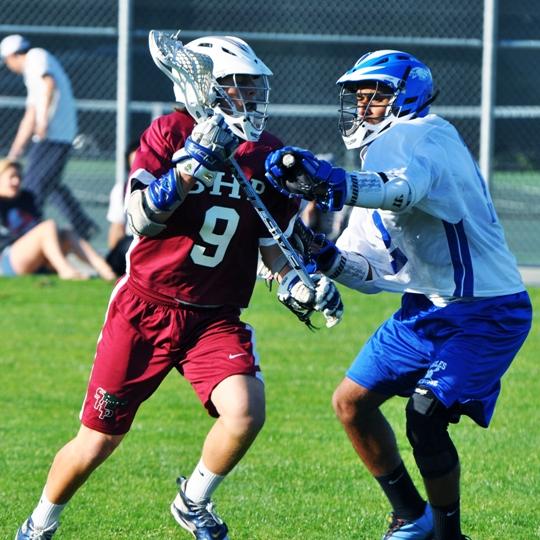 With four wins in its past five games, the Eagles lacrosse team has seen its season not only revitalize, but also become something meaningful. Plagued by injuries and inexperience early on, the Eagles in recent weeks have looked more fluid and more cohesive than ever before. The team readily relied on attack senior Emilien Fritsch to carry the load offensively in the first half of the season, but boasts a deep attack consisting of sophomores Josh Cohen and Daniel Kahan and seniors Arjun Madhok and Edwin Zuniga.
Edwin, a middie, has gone from face-off specialist to legitimate scorer with just a few months of experience. Josh and Daniel combined scored 17 points in the past week, helping the Eagles beat Harbor (15-4) and Carlmont (6-4).
"Josh has really stepped up," goalie junior Chuck Kuo said. "When he gets in his groove, he's deadly."
The Harbor match on Thursday, April 14 was part of the team's Santa Cruz excursion: two non-league games against Santa Cruz-based schools. The second leg of the trip ended in defeat at the hands of Aptos High School, a game Chuck said "got away from us."
Story continues below advertisement
The profound strides for the team have illuminated not just the Eagles' playoff hopes, but other coaches from opposing teams have noticed as well.
"We've gotten a lot of comments from other coaches about our improvement, and it's evident in our win loss record," Head Coach Greg Mengis said.
Last year, the team went 5-14. Nothing more was expected for a first-year program with so many first-year players. Last year, they also failed to win any out-of-league games as well. However, this year the Eagles have already won two nonleague games, and carry a 8-8 record into the home stretch.
What was the primary cause of this recent resurgence? Chuck attributed it to "the commitment to defense that everyone, especially the middies are making." Characterized by a primarily one-manned attack, the Eagles would quickly spiral out of control when the shots just weren't for their taking. This ultimately pressured the defense into shutting down opposing offenses, a concept that was hard to teach to inexperienced new players. Now, with a few months under the greenhorns' belts, the Eagles have been able to grasp the fundamentals of team defense and apply it exceptionally to their games.
Things went quickly from good to bad in Santa Cruz, however, when five seniors were caught with alcohol and marijuana in their hotel room, prompting the release of three players. The squad, already depleted by academic-related losses, now saw its season, just before brimming with smiles and high fives, at the brink. When asked for comment, Mengis chose not to elaborate. He continued looking ahead at the teams goals, and and did not dwell on individual players.
"It was [an] unfortunate … obstacle that the team is handling and [will] put behind us," Mengis said. "We have to focus on winning the rest of our games." With three games left on the schedule, the team looks to end the season on a high note with manageable games all week.
"We beat Leland and Priory already," middie junior Sam Ryan said. "If we stick to our game plan, we'll have success."
And they did. The Eagles beat Leland handedly on Wednesday, April 27, 11-4.
The last game, against Gunn, will be a true test of how far the Eagles have come. Earlier in the season, the team fell to Gunn in a game that ended with Emilien missing a buzzer beater in overtime.
"I'm putting pressure on myself to step up," Sam said. "Eleven wins is all I want."