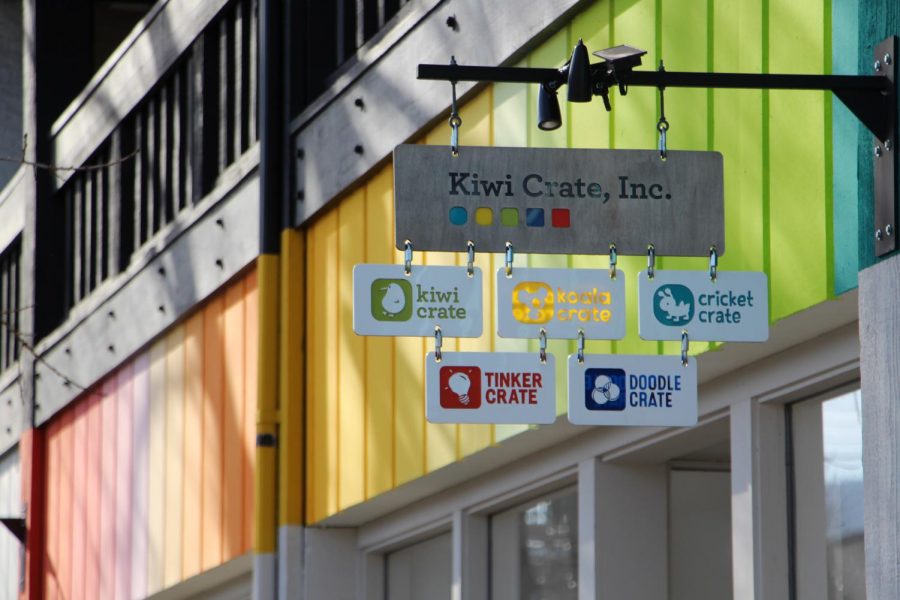 Kiwi Crate, Inc.
Underneath the rainbow-colored balcony on State, employees buzz about as they design STEAM-inspired projects for children, kids draw and tinker with contraptions, and parents browse through kits of crafts from candle-making to trebuchet building. Kiwi Crate's store, adjacent to their main office, has an atmosphere of activity that reflects the company's focus on fostering children's creativity and curiosity.
Kiwi Crate, a crate subscription company, ships their STEAM project crates on a monthly basis to its customers, along with their "Imagine!" magazine. The different lines of crates are designed for different age groups, and their topics align with a curriculum created by former educators and experts in developmental psychology.
Sandra Oh Lin founded the company in her garage with the aim of addressing busy parents' desire to engage their children in intellectually stimulating STEAM crafts at an early age.
Now, it also sells crates in its retail shop on State, has customers across the globe, and is hiring so many people that it's moving its headquarters to a larger Mountain View location later this year.
As an e-commerce business, Kiwi Crate sells to a market far wider than Silicon Valley, and they advertise through Facebook and other forms of social media to draw in customers from all over the world. However, residing in Los Altos has allowed them to work with many parents and grandparents, part of the demographic they aim to appeal to.
"One really cool facet of being in Los Altos is that we're very close to our customer base," Content Marketing Manager Katherine Rea said. "They're able to walk in, browse, talk to people who are working the store… They're able to buy crates individually or sign up for a subscription."
"
I think it's increasingly hard to make a brick- and-mortar model work. People can just buy what they want online now. The challenges are giving people a reason to come to your store."
— Content Marketing Manager Katherine Rea
More than just a shop, the downtown store is designed so that people who walk in can experience the hands-on crafting that their crates offer. On one side of the room is the "Maker Space," where tables and walls lined with felt sheets, glue, markers, and other materials are set up so that children can play and build their own creations.
"I think it's increasingly hard to make a brick and mortar model work… people can just buy what they want online for the most part now," Rea said. "The challenges are giving people a reason to come to your store…[we have] a really interactive space and it reflects our brand in an innovative way."
Because each line ships out new crates every month, Kiwi Crate frequently tests crates in development in-store, often multiple times a week. They do this on kid testing days, where they invite people to come in with their children and try out the prototype crates in the Maker Space. This not only introduces people to their business and provides activities for kids, but also gives them a chance to alter the crates in case of any issues they find with the materials, instructions, or overall experience provided.
"Some kids get excited playing with it," Rea said. "You can't have stuff that's falling apart, and you also can't have things that are too difficult to manipulate for them. We want to make sure that our crates are light… We want to make sure that all the elements of a crate are created so that we can sell subscriptions at a price that makes sense for our customers."
Kiwi Crate's unique integration of its physical site into its overall business structure reflects their goal to inspire children, through the connections they make with the local community there, while their e-commerce business continues to grow.
"We want to continue to deliver on our mission—inspiring the innovators of tomorrow and helping them learn the skills they need to innovate—by… continuing to develop awesome projects," Rea said.