From muddy local pitches to the University of Chicago, Kieran Harrison's soccer career has been nothing short of an extraordinary journey of commitment and determination. What started as an arbitrary introduction to recreational soccer evolved into a great passion for the sport and the pursuit of a big dream — the dream to play soccer in college.
Like many young athletes, Kieran began playing soccer by following in the footsteps of an older sibling. At 5 years old, she joined a recreational team, and though she started in her brother's shadow, Kieran's early exposure to the game helped nurture her skills and set the stage for a remarkable journey ahead.
"Living next to Stanford, I grew up going to many of their soccer games," Kieran said. "So it's no wonder why I learned to love the environment of soccer from a very young age."
However, it wasn't until Kieran joined the competitive Mountain View–Los Altos (MVLA) Soccer Club at 9 years old that her talent became evident, securing a spot on the club's top team after her first tryout. When she entered high school years later, Kieran made the pivotal decision to wholeheartedly pursue soccer.
Story continues below advertisement
"I started considering recruitment at the beginning of high school," Kieran said. "And I decided that, if I really wanted to get into the best schools, I should start focusing on soccer too."
Kieran remained on the MVLA Soccer Club's top teams throughout middle and high school, and in the summer of 2023, her team played in the Elite Clubs National League National Playoffs, a competitive and prestigious club tournament held in San Diego, Calif. Kieran also contributed to the Los Altos High School's varsity girls soccer team's victory in the 2022 CCS Division I championship playoffs, and the team also ranked second overall in the Santa Clara Valley Athletic League in 2023.
Her skills did not go unnoticed, and with unwavering support from friends and family, this past June, Kieran announced her commitment to play Division III soccer at UChicago.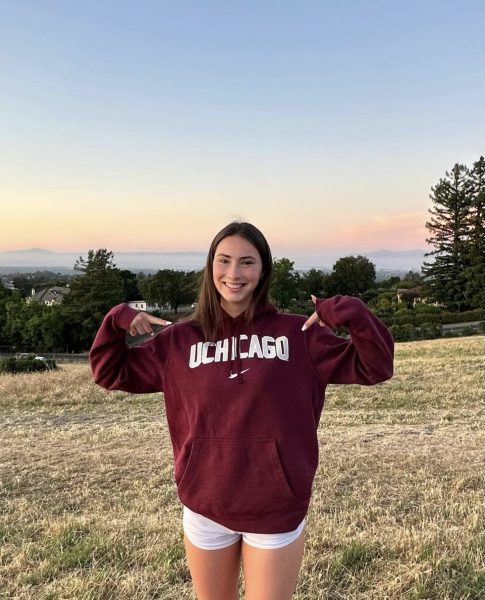 "It's hard to dismiss UChicago's academics, and the school itself is gorgeous too," Kieran said. "Plus, the whole vibe of the soccer team was amazing. Everyone's so energized, and they all have such great personalities — I could really see myself fitting in there."
Consistently ranked in the top 10 universities in the country, UChicago's balance of academics and athletics fit all of Kieran's criteria. In particular, its opportunities for connections and careers aligned with Kieran's long-term goal of landing an internship in the financial field.
Through countless hours of practice and games with her teams both at LAHS and MVLA, Kieran's perseverance brought her more than just success and victory. Her commitment has left a lasting impact and brought affinity for the many lifelong friendships formed throughout her career.
"I've played soccer with Kieran since forever," teammate and senior Kiera Gowers said. "We played in MVLA, Egan and now at LAHS, and she's been an amazing close friend as well as an incredibly supportive and driven teammate this whole time."
From practices to games, Kieran's camaraderie has proven her as not only an exceptional teammate but a cherished and amusing friend both on and off the field.
"During warm-ups before games, we listen to the song 'World Cup' by IShowSpeed," Kieran said. "It's really just a funny way to destress before a game and focus on the little things we can laugh about before we lock in."
But when it's showtime, she has nothing but soccer on her mind.
"As a defender, I play left back on my team," Kieran said. "And there's always that fear of being chipped or having a forward run right by you. So you just want to hope that you're in the right place at the right time."
"Kieran is incredibly fast," senior Aoife Turner, who plays with Kieran at both MVLA and LAHS, said. "She sprints down the flank, untouched by many defenders. She connects the ball very cleanly, especially when working with the left forward. She's also a great defender, and what forward likes a fast defender?"
Even in the midst of her rigorous training schedule and competitions, Kieran is able to find moments of lightheartedness and joy, especially with her teammates.
"Kieran sees the world from a very realistic perspective," Aoife said. "She doesn't get knotted up into all the unnecessary drama, and she's a very loyal friend. But, my fondest memory of Kieran is when she kicked me in the shin in Yosemite for no reason. She truly is an angel."