Keeping up with the retirees: Chemistry teacher Craig Seran
Chemistry teacher Craig Seran hasn't taken a day off from work since he was 10 years old. From mowing lawns to teaching, he has held some sort of job since a very young age. After 34 years of hard work and dedication, Seran, known for teaching Chemistry Honors is retiring at the end of this school year. Although Seran is currently only teaching Chemistry Honors, he began his teaching career teaching Biology and later also taught Advanced Placement Chemistry. Before his time at Los Altos High School, Seran taught at a continuation school in Gilroy, which he followed with a comprehensive teaching job. Before going into a career in high school education, the most impactful part of Seran's own high school career was a memory of one of his English teachers. Ironically, it was one of his least favorite subjects.
"This teacher really made an impact on me and I thought, 'Wow, that would be a pretty cool profession to do,'" Seran said.
His English teacher took a genuine interest in what he wanted to do with his future and knowing that someone was interested in him resonated with him. Now, this is one of Seran's core values: positively impacting people through his pedagogy.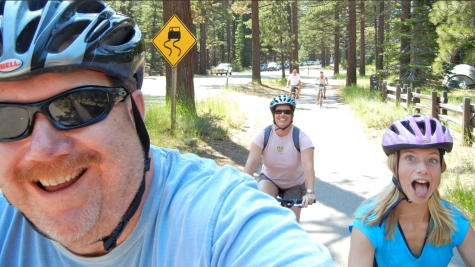 Having had Seran for two years in a row, in both Chemistry Honors and AP Chemistry, senior Avery Chin has experienced first hand the community formed in Seran's classroom.
"Last year, there were only 15 people taking AP Chemistry in the entire school, so it became a pretty tight-knit group," Avery said.
This allowed Avery to connect with Seran on a deeper level. Both inside and outside of the classroom, Seran has always been a friendly, familiar face to Avery. Seran has watched LAHS evolve throughout his years here — the school would look very different without him; he was an integral part of the science department's development. For 15 years, he was the Science Department Coordinator; he has been part of the Teacher's Union, helping to ensure fair salaries for teachers and effective contract negotiations. He has also been part of leadership teams, site council and many more communities throughout the school district.
Instrumental music teacher Ted Ferruci described Seran as a very approachable colleague.
"Anytime I had a question about something, he was very kind to give me advice and talk me through anything that I didn't understand," Ferruci said. "I'm going to miss him very much."
Once Seran retires, he plans to enjoy things that he hasn't been able to while teaching, such as spending more time outdoors: hiking, biking and camping. He hopes to travel around the world; his list includes Morocco and "some chill time" in Hawaii.
"
Anytime I had a question about something, he was very kind to give me advice and talk me through anything that I didn't understand. I'm going to miss him very much.
— Ted Ferruci
Because teaching has played such a major part in Seran's life, he plans on continuing to teach science to first graders at Evergreen school district from time to time. He also intends to volunteer his time at California State Parks and the Second Harvest food bank, hoping to continue to make a positive impact on people wherever he goes. Seran appreciates having a job that he genuinely
enjoys and the time he's had at LAHS. Having past students coming back to thank him makes what he is doing feel worthwhile; he is grateful that he can make an impact on them.
Teaching has not just shaped who he is as a person, but also how he views the positive effects of his actions.
Watching his students being eager and enthusiastic about learning makes him excited to come into work every day, but now, it's time for Seran's happy ending at LAHS. For the first time in years, it's time for him to put his feet up.
Leave a Comment