Keeping up with the retirees: Assisstant principal Galen Rosenberg
After 38 years at Los Altos High School, people have lots to say about Galen Rosenberg, whether those memories are about his former position as an English teacher or his current position as an assistant principal. Usually, those recollections start with his bow ties. 
"The man looks fantastic in a bowtie," English teacher Michael Moul said.
He has touched many lives during his time at LAHS, in a wide range of positions: basketball and tennis coach, English Department coordinator, Western Association of Schools and Colleges (WASC) Coordinator and even founding adviser of The Talon. But no matter in the capacity in which people knew Rosenberg, whether they know him well or not, one word in particular comes to mind: calm. 
"Very even-keeled, very level-headed," Physical Education Department Coordinator Kiernan Raffo said. "You always know what to expect with him. You're never going to knock on his door and be like, 'Okay, is he in a good mood or a bad mood today?'"
Nowhere was this sense of unwavering calm more apparent than during the bomb threat in October 2021. 
"He came on the loudspeaker and it was this most calming, lovely voice," Raffo said. "I told him he was more calming than Morgan Freeman on a Visa commercial, because he was just all 'Okay, here we go, no biggie.'"
Sometimes, Rosenberg's peaceful demeanor helps calm thousands of students; most of the time, however, that reliable presence simply helps those in his everyday life. 
"As I'm experiencing things for the first time as a new administrator, the nerves can be high," assistant principal Fabian Morales-Medina said. "And I just look at him and I'm like, 'Okay. It's going to be okay.'"
This calm, Raffo explained, is not to be confused with a lack of passion on his end — on the contrary, it is this calm that enables him to tackle the problems that he is so passionate about. 
"Sometimes, I'd go in [his office], like fired up, and I would want him to be fired up too," Raffo said. "He just is able to process and see the whole picture and then decide what was best for all parties involved. It's such a great skill."
When it comes to dealing with issues that involve specific students, Rosenberg's belief in restorative justice drives a lot of his decisions, and he is described by many colleagues as having a "student-first attitude."
"Any time a student has a disciplinary issue, whether it be mental health, academic integrity, whatever, he handles it in such an amazingly humane way," English teacher Joanne Miyahara said. "He helps everyone, even somebody who has done something wrong, maintain their dignity, which shows that he really has compassion."
Similarly, when making decisions as an administrative team or as a staff, this big-picture perspective allows Rosenberg to look at problems from a different point of view. 
"In almost any meeting, he's asking the really key question that really helps us understand [the issue at hand] more clearly and being able to move us forward," Miyahara said. "We even made buttons: 'What Would Galen Do?' That's kind of symbolic of how we all really value what he has to say."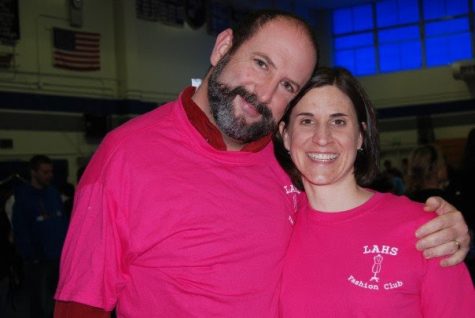 And what would Galen do? Most of the time, he would ask for data. 
"Sometimes Mr. Rosenberg gets tagged as 'the data guy,' Medina said. "Always saying, 'show me the data of how this works.' But it's not about the numbers, it's about his deep respect for students."
That reputation is known across staff, and close friends aren't afraid to give him grief for it.
"Sometimes during leadership coordinator meetings, I'd keep a count of how many times he said 'data,' and then make a joke about it after," Raffo said.
Of course, he will be missed for more than his administrative and teaching talents — after almost four decades at LAHS, he is an integral part of the community and culture of the school for both teachers and students alike. 
"He was super involved in my Broken Box scene, and always supported the shows," Diya Gupta, '22 said. "He always showed up to other events and things like that, and I learned a lot from him about the importance of showing up and the importance of doing stuff from your heart. He does so many things not in his job description — he's involved in things because he wants to be involved in them."
These kinds of thoughtful actions emulate the quiet kindness that makes Rosenberg such a distinctive person. 
"He has this sort of understated manner in his personality, and I think people often take a while to understand him because he's not just out there in an extroverted way, although he is very extroverted in other ways," English teacher April Oliver said. "So I think coming to understand his humor and his concern for other people and the depth of his thinking isn't something that happens right away."
This humor reveals itself in his day-to-day interactions with friends and colleagues, often in a dry and witty fashion. For those who know him well, this side of him is what they will remember most, whether it's casual drop-bys throughout the days or staff-wide meetings.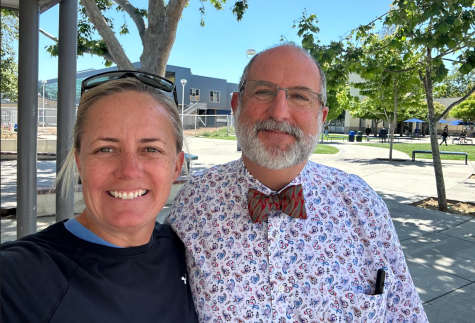 "The greatest part of my friendship with him is that we can banter and we can go back and forth, and it makes other people laugh as well," Raffo said. "Like he just wrote a very long email to the staff, and like 70% of the way through it, he said, 'Kiernan, are you still with me?' And he was right, 'cause I wasn't! I had totally tuned out by then — somebody else had to tell me, 'Rosenberg's calling you out!'" 
Over the years, Rosenberg has developed a solid set of friends that enjoy lunches and cookouts and dancing together, and they're who he's going to miss the most. 
"A bunch of us used to eat in Galen's classroom during lunch, and I remember this sense of all my friends' voices, just talking to each other, and having this feeling like, 'These are my people,'" Oliver said.
And it's clear that Rosenberg feels the same.
"I would happily pick the experiences I've had here over more money," Rosenberg said. "Feeling like you're making a difference is way more valuable than anything else. And that's been true for me here, and that's been great."
View Comments(1)