Keeping up with fall sports
The Talon covers how Los Altos sports teams have been doing this season.
Football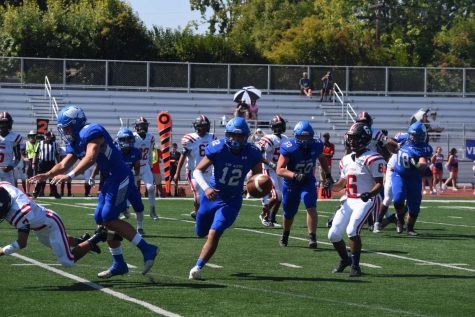 Despite struggles with confidence and mental toughness during the off season, varsity boys football was able to regroup for their first league game against Lynbrook. They defeated Lynbrook
and earned an impressive 50-0 victory; however, the following week Los Altos suffered a 0-27 defeat against Santa Clara, bringing their league score to 1-1. Los Altos's next game is against Mountain View at Foothill College on Friday, October 5 at 7  p.m.
Cross Country
The cross country team excelled at its first SCVAL meet at Lynbrook High School. The varsity and frosh/soph boys teams placed first and both the JV girls and boys teams took second place. The team also performed well in its first two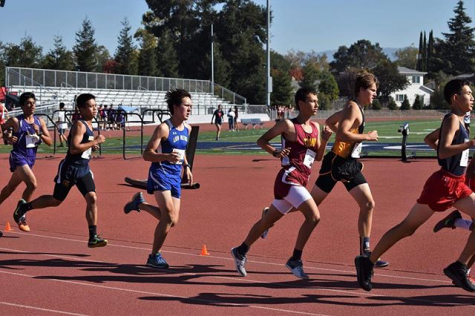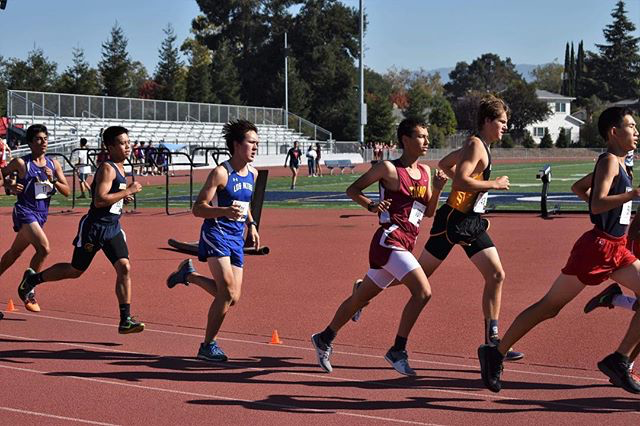 invitational meets: at Lowell Invitational, JV boys took first place. All other divisions were in the top seven out of more than 20 teams. At the Early Bird invitational, the combined boys team was third and the combined girls team placed thirteenth out of almost 70 teams.
"[Our] boys and girls teams will [definitely] make it to CCS," head coach Steph Mackenzie said. "My hope is to win the boys SCVAL championships again and for our boys team to win CCS. And for the girls, I would love to see them place higher at CCS this year than they have in the past few years, and I think they can."
The team also competed in the Stanford Invitational on Saturday and is gearing up for its next league meet at Baylands Park on Wednesday, October 17.
Girls Tennis
After their strong undefeated performance last year, the girls varsity tennis team advanced to the De Anza League, the upper division. Now facing stronger opponents, the team's goals have shifted towards building confidence, brushing up on technique and improving their doubles.
"Tennis is an individual sport disguised as a team sport […] [so] just having one top-ranked player sometimes will not give you the win," said Varsity Coach Hung Nguyen, "That's why the doubles are crucial".
So far this season, the tennis team has had surprising successes and unexpected losses, but are hoping to pick up their performance by the end of the season.
"We have much tougher competition this year," co-captain senior Krithika Nathamuni said. "So, what we're going to try to do is just make sure that everyone is playing … their strongest positions."
Boys Water Polo
Varsity boys water polo has won eight games out of 12 so far, a promising beginning to the season. Despite their one-goal loss to Los Gatos in their first league match, the Eagles beat them by 7 points on Thursday, September 27 in a rematch.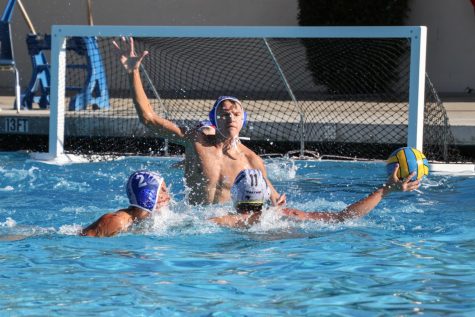 The team only suffered two one-goal losses in the first round of the double round robin in their fight for the top spot in the league against rivals Mountain View, Los Gatos, and Homestead.
"Those are the games that are going to make or break our season for winning the league or not," sophomore Owen Brunner said.
With only two seniors on the team this year, the dynamic has changed significantly. Still, the younger teammates are successfully replacing the positions of former seniors. The team is focusing on communication and defense.
Once again like previous years, the team hopes to qualify for the open division in CCS, which they qualified for last year as a 7th seed. They look forward to repeating their win in the league championship and advance to NorCal regionals.
The varsity boys water polo team's  next league game is on Tuesday, October 9 at Mountain View High School.
Girls Water Polo
Despite losing some of their strongest players last year, the varsity girls water polo team looks forward to another successful season. The team hopes to win in their league as well as in CCS once again.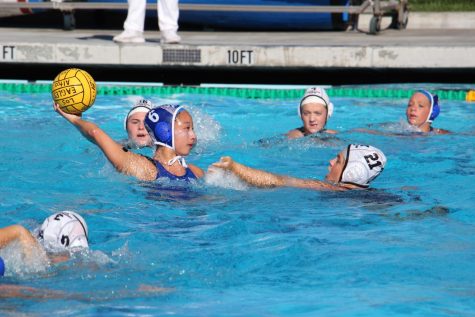 This season, the team alreadyhad a 10-3 win against rival Mountain View. Although they lost against some of the top teams in the league, Gunn and Los Gatos, they are working hard together as a team to move up higher in the league.
This year, the varsity girls team has a variety of strengths in different areas, which will help them when facing challenging teams. Some teammates cover the pool faster, whereas some are stronger in the offense or defense aspects.
"I think we all have to come out [strong and be] on the same page, sophomore goalie Shreya Juneja said. "[We have to] just make sure we are communicating a lot."
Varsity girls water polo will play Palo Alto in their next game on Tuesday, October 9.
Girls Field Hockey
The varsity field hockey team moved up a league this year, but has had trouble matching the level of the teams in the upper division. Earlier in the season, the Eagles faced losses against state-level opponents Los Gatos, Archbishop Mitty, St. Francis, St. Ignatius and Cupertino. In the lower division, the team won against Homestead and Saratoga, with a score of  7-0 and 5-0, respectively.
"What we're trying to do is build our skills, so that when we play the harder teams, we're better than we were the first round," varsity girls field hockey coach Mary Donahue said. "My goal is to go into playoffs playing better and more confidently."
Girls Golf
Varsity girls golf has started the season off strong, with a consecutive streak of four wins and a league record of 3-0 in the El Camino Division. On Tuesday, September 18, they defeated Homestead by 45 strokes at the Shoreline Course. This year, the team's main focus has been bonding through group activities.
"We've set times and dates just to bond as a team and get to know one another more as individuals," junior Caris Kim said. "I think that has helped bring us together so it'll reflect in our next match."
Girls Volleyball
The varsity girls volleyball team began the season with losses to rivals Mountain View and Palo Alto. However, they bounced back by defeating Los Gatos, Lynbrook, Homestead and Monta Vista. With these wins, they improved their league record to 4-2 and are currently ranked third in league standings.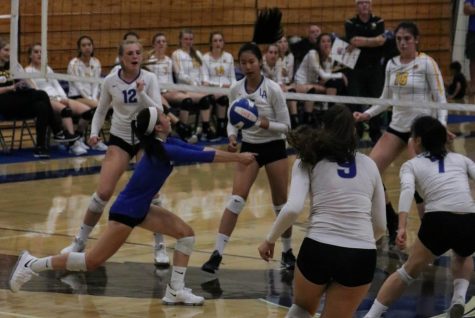 The team  also competed in two tournaments early this September: Spikefest and the Presentation Tournament. At Spikefest, they took fourth place and won first place at the Presentation Tournament, only losing one set throughout the day. Due to the team's success in tournaments and the depth behind each position, captain senior Tori Hausch is optimistic about the Eagles qualifying for CCS this year.
"We have a great group…[with] solid players for all areas of the court," Tori said."I'm really hopeful that we can go farther than we did last year for CCS."
Mayu Alten, Nikhita Boddu, Audrey Chang, Marie Godderis, Parisa Larson, Idalia Lopez-Martinez, Anya Sharma, and Navya Singhai contributed to this page.