Juniors, Sophomores Attend Countdown to College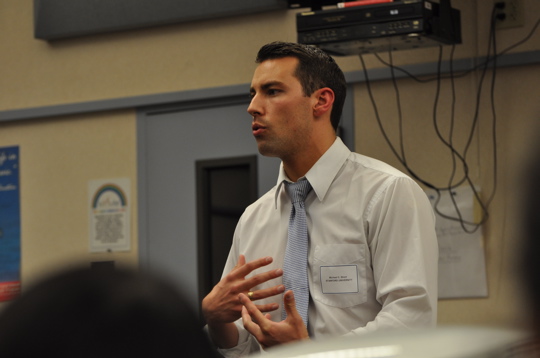 [photo by Niki Moshiri]
The school hosted the Countdown to College yesterday, April 6. The event allowed juniors and sophomores to attend a variety of workshops about the application process to public and private colleges.
Workshops were held from 6:30 p.m. to 8:30 p.m. and included sessions about the UC system, the CSU system, competitive private colleges, community colleges, admissions testing (SAT/ACT), visual and applying arts programs, college-bound athletes, extended opportunity programs, financial aid, letters of recommendation, the use of Naviance, gap years, college essays, and college preparation for first-generation applicants.
The speakers for the sessions ranged from school counselors to admission officers from UC Merced, Foothill and Stanford. There was also a student panel composed of seniors Tyler Stout, Tasha Mistri, Jose Villanueva and Lindsey Cunningham.
Like the College Fair, Countdown to College is hosted every other year by the school.
"I think [Countdown to College] is a great resource about the application process," junior Meg Nichols said. "I learned some new information, reinforced stuff that I had already known before and just overall thought that it was very interesting and informative."
Leave a Comment