The Los Altos High School chapter of the Junior State of America (JSA) received a series of threatening messages on Wednesday, October 18, in response to their planned panel on the Israel-Hamas war. JSA had originally organized a panel for November 15, set to feature several notable speakers who aimed to address the misinformation circulating about the war. 
Though the identities of the panelists were shared only with the club president and JSA officers, the identity of one of the speakers was leaked. 
On October 18, JSA president junior Maulik Dhakal received concerning messages from a number with a local area code. The messages read "youl [sic] regret inviting war criminal [NAME REDACTED] to your event. standing up for israel when your not even jewish. we know whos coming to speak. nice try to hide it. zionists like you are going down."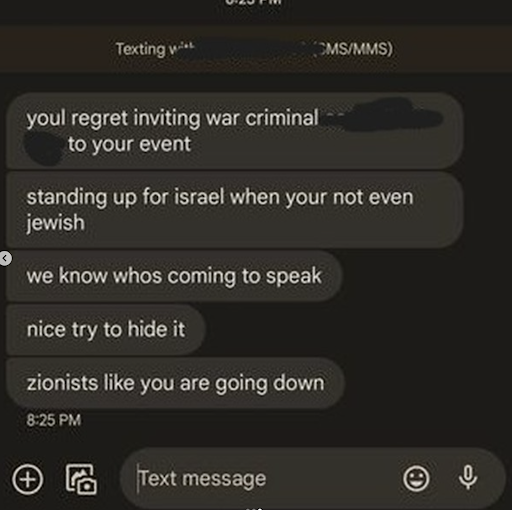 The 650 area code suggested the texter may have been from the nearby community. According to Maulik, the person who sent the messages was "very likely a student at LAHS." The phone number was deleted soon after the message was sent.
Story continues below advertisement
The targeted speaker is a former high-ranked government official who currently works at Stanford University. They were mentioned specifically by name in the text, forcing them to pull out of the panel for their safety. Stanford also requested to keep the identity of the speaker anonymous for safety concerns.
A senior staffer from the speaker's team at Stanford commented on a statement regarding the matter.
"I grew up in the area, and graduated from Stanford," the statement read. "This is home. This is my community. I'm really disappointed that this is happening here. [The speaker] is very saddened by the fact that this is not only happening in our area but also all across the United States. Although [they] won't be discussing on the panel for security reasons, [they] look forward to interacting with Los Altos High School students at another time."
In response to the messages, Los Altos High School launched an investigation, which may continue at the state and federal level. In the meantime, the panel has been postponed, and will be rescheduled to a later date.
Originally, the panel was supposed to include experts on Israel-Palestine relations and was intended to be an event to disprove common misconceptions about the war while condemning terrorism. The event description read "What's Really Happening in Israel?
Debunking Hamas lies, speaking on why Americans need to support Israel and reporting about the situation from experts and folks on the ground."
"One reason we organized this panel is because of all the misinformation passed around," JSA publicity commissioner junior Theo Dischler said. "The goal of inviting all these guest speakers was to clear that up for students, and we had planned to invite people that both supported and opposed the current Israeli government."
Maulik believes that the sender could have been influenced by the recent LAHS student-organized and staged Gaza walkout in support of Palestinian citizens. 
"I appreciate their point on human rights, but they were claiming that Israel was committing genocide against Palestinians," Maulik said. "The real facts show that they were simply trying to defend themselves from a terrorist attack. I think this false information from the march and our community in general, which the discussion was supposed to address, motivated this person to send the text."
Sophomore Lev Zeiger, the organizer of the Gaza protest, expressed disappointment at the text message threat Maulik received.
"The message was absolutely horrible," Lev said. "It was just disgusting. I'm against Islamophobia, but I'm also against anti semitism."
Lev disagreed with Maulik's sentiment that the Gaze protest could have inspired hate messages. 
"I can't help but wonder if this accusation is laziness or dishonesty," Lev said. "Laziness, because they didn't even take the time to listen to what we were saying. They just accused us, and they knew what we meant and stood for. Dishonesty [because] maybe they knew what we meant, but realized that they're in such a morally bankrupt position, that they had to pin the blame on someone."
Maulik attributes the rise of misinformation to the increasing antisemitic rhetoric, which students say is prevalent on campus and on social media.
"I think many people who walked in the protest were miseducated," Maulik said. "I feel like they had good intentions, but the accusations they were making against Israel has roots in anti-semitism."
Junior Talia Frank, who is Jewish, attended a Mountain View–Los Altos School District board meeting on Monday, October 16 with several other students and parents in the MVLA community to express disappointment with the district's response to the war. When learning about the Gaza walkout, Talia was concerned that the protest would spark rumors and increase anti-semitism.
So many people have no idea what this conflict is about and are just picking sides. This is a real war with real consequences, and ignorant people are a big reason why hateful messages like the one we received are being spread.
— Junior Theo Dischler
"The biggest reason why I was worried about the protest was the false information it would generate," Talia said. "A lot of people see things online or hear things from their friends and automatically assume it's true, and are quick to blame and accuse those people of horrible things."
Lev disagrees that the protest has spread false information. 
"I'm still learning, we're all still learning," Lev said. "Civil unrest is what makes change, but equally importantly, I hoped that people would be willing to learn from the rally. I think to make a baseline claim, that we support peace and to hold a sign that says ceasefire, while advocating for an end to terrorism is something that you can get behind and then learn more about it. "
Other students have also voiced concerns about the increasingly polarizing nature of the war, which has resulted in people forming opinions and taking uninformed stances on the war.
"People are treating this like a game," Theo said. "So many people have no idea what this conflict is about and are just picking sides. This is a real war with real consequences, and ignorant people are a big reason why hateful messages like the one we received are being spread."  
"These past weeks I've heard a lot of people saying that they support either Palestine or Israel," Talia said. "In reality, this war is not even Palestinians versus Israelis. It's against Hamas, who is targeting everyone, even their own people. Hamas has no one other than themselves in mind."
"I've said it, and I'll say again, there aren't two sides to this," Lev said. "This is so multifaceted. There's so many little parts and cracks in this that you can't just pick one side. I think if you're picking one side, you're not having empathy and you're not being thoughtful enough."
Maulik stresses the severity of the situation, and what it means to the community overall. 
"To have opinions is one thing, but to send a threatening message is another," Maulik said. "It was a cowardly thing to do — sending a message from a phone number created for this sole purpose and then promptly disconnecting it. We are very disappointed that something like this came from our community."