Jewish youth rally behind culture clubs for community
On Wednesday, February 15th, a man found two Jewish men leaving synagogues in Los Angeles and began firing, injuring them both.
On Saturday, February 25, users on TikTok attempted to instigate a "Day of Hate" targeting Jewish people.
Last week on Monday, March 13, Jewish students at Stanford University reported seeing swastikas and an image of Hitler in front of their dorm rooms.
These incidents follow a trend of a recent rise of antisemitism across the country. As Jewish hate inches closer into the Los Altos High School community, Jewish communities continue to promote cultural appreciation in an effort to celebrate their Jewish identity.
For junior Rom Zuckerman, who moved from Israel in fourth grade, coming to the Bay Area started off with a feeling of culture shock. Because he was both an immigrant from a faraway country and also didn't speak a word of English, he felt isolated.
"I didn't know anyone, it started off really scary," Rom said. "I felt that I was disconnected."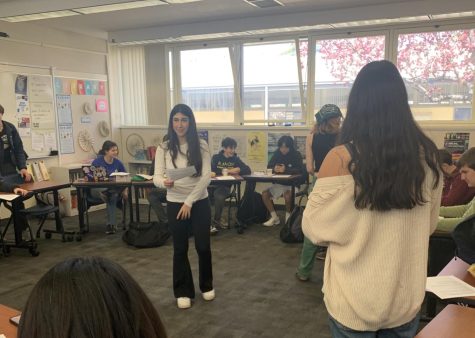 In particular, Rom was unfamiliar with the new version of Jewish culture he found in the United States because many traditions and holidays in the Jewish community are seen as foreign.
"Israeli holidays are a lot more emotional compared to the United States," Rom said. "In the United States, holidays are often taken for granted, but in Israel, it's a way of life."
For people like him, many youth groups help them find solidarity with their faith. At LAHS, the Jewish Student Union (JSU) works to help celebrate traditional values and customs with fun activities. The club aims to be a safe space for Jewish life, but also hopes to educate more people outside the unique culture and lifestyle.
"I wanted to join JSU because having a place where I can talk with people who have similar experiences on campus is really important," junior Mal Weisfeld said. "I've seen other kinds of Jewish communities in different places, but there wasn't really one on campus."
Another group that talks about the importance of Jewish heritage is the B'nai B'rith Youth Organization (BBYO), a Jewish teen organization that has chapters across the country. The organization's focus is to strengthen the bonds within the community, such as with events that discuss Jewish history in a fun yet informative way for its members.
A good portion of the BBYO's events work as community builders to help Jewish teens have fun learning about their culture with different hangouts and meetings.
"
When there's an attack across the country that has been going unnoticed, having a space where I can talk about that with people who feel the same way as me is really special
— junior Mal Weisfeld
"It provides ways to help make friends, meet new people of all grades, and create experiences and memories that I've only made with BBYO," junior Shay Manor said.
JSU and BBYO help Jewish American teens both work to stay connected to their culture and religious heritage while fostering a sense of community and belonging. They help protect teens away from a world in which their identities could be seen as different, which has become common in the modern day.
"When there's an attack across the country that has been going unnoticed, having a space where I can talk about that with people who feel the same way as me is really special," Mal said.
These organizations help support Jewish teens in light of past hate crimes and support the positive values the religion strives to teach.
"I think it's important because it's good to have people who support you, especially with the small handful of Jewish students here at Los Altos," Rom said. "It's important to have some community to help you remind yourself about your faith and the values you should uphold."
Leave a Comment