Protestors Speak Out Against Trump
December 15, 2016
Jesus Membrillo
Politics plays an integral role in junior Jesus Membrillo's life and has shaped the career path he wants to pursue. He has taken the school by storm through his political activism — just a few weeks ago, he spoke at and helped lead a school protest against the election results.
Jesus' interests in politics stemmed from his father's involvement in the Mexican army. His father attempted to join the Navy in the U.S. but was denied due to his lack of documentation. Jesus said that his father's experience helped ignite his passion for politics, and he feels that this discrimination against immigrants is rising once more with the election of Trump.
"We're waiting for the history books to be titled 'Trump's Regime,'" Jesus said. "We can say, 'We lived through that, and we survived,' hopefully. It's a game of fate, like 'Politics 101: you tell people what they want to hear.' That's how somebody like him came to power."
Jesus plans to organize his future around his passion by majoring in politics. During the protest, he shared many of his own opinions with the school, despite his lack of experience with public speaking.
"At first, I was one of many who just decided to go because why not?" Jesus said. "But when I heard people speaking up, I felt that it was my obligation to speak my mind and give out my thoughts about [Trump]. It helped build up my self-confidence [because] I was shaking a lot."
"
We're waiting for history books to be titled 'Trump's Regime.' We can say, 'We lived through that, and we survived.'"
— Junior Jesus Membrillo
Jesus holds strong views on the outcome of this year's election. He believes that Trump is unfit to be president, likening him to a dictator or a con-man.
"You just can't deny the reality we live in," Jesus said. "We have people like [Trump] scapegoating, targeting minorities, homosexuals [and] mentally-ill people… [Trump] concludes that [minorities] are the bad people."
Jesus felt angered over Trump's views on minorities, especially his threats to deport Mexicans and Muslims. He denounces Trump's stereotyping of Mexicans that portrays them as criminals.
"Donald Trump is targeting Mexicans… calling them rapists and criminals," Jesus said. "We've got all of these [minorities] being targeted… He says that he'll be the safety symbol of the American people, and that he'll protect them from any harm."
However, Jesus believes students should accept the outcome of the election, regardless of whether or not they agree with it. He has faith that the U.S. will be able to make it past difficult times.
"People shouldn't be scared of the government," Jesus said. "The government should be scared of its people. The people are the ones that give their government power, and the power that has been given to the government cannot be used against people."
Sean Adibi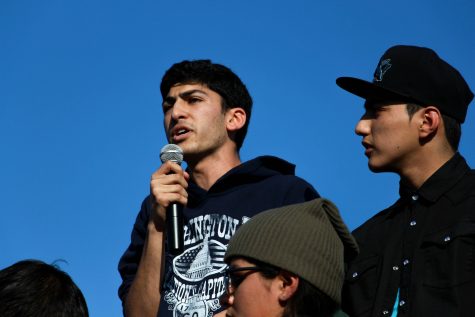 On Monday November 14, senior Sean Adibi spoke to a crowd of students involved in a walkout protesting president-elect Donald Trump. From atop the bleachers overlooking the protesters on the football field, Sean spoke words of encouragement to students at Los Altos to take a stand and unify with one another.
"If we continue to build walls between each other, it only worsens America," Sean said at the walkout. "This country was built on the foundation that all people are equal."
Marching down San Antonio and El Camino, Sean and over a hundred other students held signs and chanted pro-peace and anti-Trump slogans. Sean intended his speech to help ease the heated emotions that students may have been feeling. While the election of Trump shocked Sean, he believes it can be an opportunity for the Los Altos community to unite and remember to respect one another during this time.
"What I wanted to get out to the audience was not hate or anger but a message of unity, because I noticed most of the students were trying to come to terms with the results through their anger," Sean said. "It was better for me to ask the crowd to understand and take a moment to recognize why people might be feeling certain things."
Sean's Middle Eastern background has influenced his viewpoint on Trump. His family immigrated to the United States before he was born, and Trump's words about Muslim registrations and his future plans for people of various ethnic backgrounds have stricken fear and anger in Sean and his family.
The fact that Trump's rhetoric was based on fear was very angering, especially for my family," Sean said. "It's really scary to think that a president can instill fear in their people."
Sean will continue to be proactive with his political views by attending various protests in the Bay Area and possibly organizing another walkout later in the semester. He will also attend Bridge Together Golden Gate, a demonstration that will be held on the Golden Gate Bridge in San Francisco on January 20, Inauguration Day, to further protest Trump's presidency.
"I actually hadn't protested before the walkout, but I really did want to get out there and make an impact," Sean said. "In January, I am willing to skip school and go out to San Francisco for Inauguration Day because I think that's the most impactful one to attend."