Injustices in female hip-hop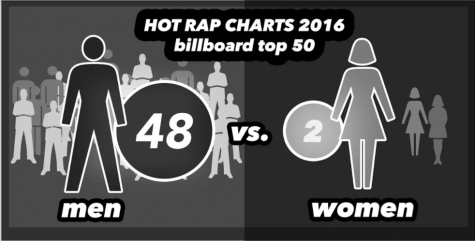 Max Weirauch
Remember way back in the day when you could shout, "WHO DAT, WHO DAT?" in the hallways, and someone would immediately respond with, "I-G-G-Y!" Now, if you randomly decide to bring up Iggy Azalea in a conversation, somebody might actually say, "Who dat?"
Iggy's career peaked in 2014 when she topped the charts with her hit single "Fancy" and was featured on Ariana Grande's "Problem." Now it's 2017, and what has Iggy been up to? Turns out, she has been actively pumping out new
music all year. But her career seems to be maintaining its downward trajectory with chart-flopping singles "Switch" and "Mo Bounce." Neither song came within sniffing distance of the "Billboard Hot 100," and Iggy herself tweeted out, "Mo Bounce isn't even charting. im def not concerned about money. just doing what i love and you can join in or not :-)."
It isn't just Iggy, either. She is only one example of many female hip-hop artists whose mainstream careers are short-lived. So why is it that most emerging female rappers can't seem to stay mainstream for more than one summer?
The most prominent issue seems to be the hip-hop industry itself, which seems to favor the many male artists within it. Women have to overcome a very real bias and stigma in hip-hop that makes other barriers all rappers face have a stronger relevance. They have to depend on men to approve and introduce them on ground level (because most of the people in places of power are men). They need to rack up branding and merchandising deals to effectively 'buy' the right to their career. And, they need to have a certain aesthetic when it comes to their physical appearance.
Hip-hop is a central part of the American culture. You can see its influence from runway shows and fashion to politics and pop culture. Now, the industry generates 10 billion dollars a year, and rappers and artists are the faces of major ad campaigns, receiving credit for being mainstream.
Women in hip-hop have to not only compete with men and the history of the male-dominated street art, but also with the business world, another aspect of the rap game that has increasingly become more important. Artists like Dr. Dre and Drake have been able to make lucrative careers representing different brands. In the case of Dre, he was able to create his own headphones because of the clout, influence and power afforded to him by his career. The only difference here is that men have the freedom to do this much later in their careers than women.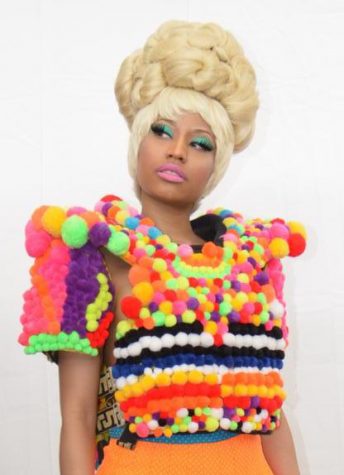 One of the rare female success stories in the hip-hop business world is Nicki Minaj, and her business success is a major reason for her continued relevance. Nicki is the face of her own MAC lipsticks, has an OPI nail polish, her own fragrance and a clothing brand. She's done many ad campaigns for major companies and fashion brands like H&M and Roberto Cavalli. She's been able to do all this and craft a landscape and route that many female rappers can follow. It's been one primary reason for her longevity. She's "bought" control over her brand and career and does not rely on a dominant label or men to be successful. She has the ability to negotiate and has given herself needed leverage in her career.
"Everything I do, I do with business in my head," Minaj said in an interview with "The Guardian." "If you're not savvy, this business will eat you alive. A lot of people see it as a big party. And when that party is up, what are you
going to do?"
When you think about male rappers, they have much less branding pressure. How many fragrances and ad campaigns can you picture attached to any of the current male rappers in the industry? Sure, they are attached to certain brands by choice, but it's difficult for anyone to be the face of a brand. For women, it's a must.
Iggy Azalea is an example of a female rapper's career failing due to the rap industry culture. She was cut off by T.I., her mentor and label owner (Grand Hustle Label), and because she hadn't racked up enough revenue and her brand was fairly new, she had no legs to stand on to defend her career in the face of backlash.
Similarly, Azealia Banks is often in the media for saying inflammatory things rather than being featured for
her music or career endeavours. She has no big businesses backing her up and supporting her career into the next level. Angel Haze has the same issue with branding — although she faces other challenges as an agender rapper, the conclusion is the same.
For women in hip-hop, these ideals are necessary to gain the right to power over their own careers.
For a female to be successful in the hip-hop industry, she has to work twice as hard as a male. Males do need to have merit and be skillful at attracting attention. But because they are allowed more freedom, they do not need to (in the same sense and as early on) get themselves in a position of diversifying their income and realm of influence as insurance against relying on others to back them in the game.
Along with all the backstage hustling and tricky navigation of being a female rap artist, there's a certain appearance that is required by the industry and to an extent the fans of female hip-hop: light skin (or the appearance of it through editing) and surgically-obtained bodies that reach a voluptuous aesthetic. There seems to be a requirement for female rappers to oversexualize themselves in order to find success, and it's a huge setback for many of their careers. Even Snoop Dogg once lamented that, "It's more about what she look like than what she sound like."
Female rappers like Azealia Banks and Angel Haze who have experienced varying degrees of success do not fit these standards as "skinny dark" black women. There are obviously other reasons for their varying success, but it's important to think about how male appearance doesn't weigh anything in terms of their success, while females have to factor it into their careers.
If a female rapper is able to surpass these challenges, like Nicki Minaj, they have done a lot of heavy lifting and been in the right spot at the right time. This is a factor as to why there has to be one "Queen" in female hip-hop, and the fans, or the industry itself, won't let there be more than one on top. Anytime a female rapper starts to gain traction, she is compared to whoever is on top currently. For the past seven years, roughly, that has been Miss Nicki Minaj.
Record labels are notorious for telling their upcoming female rappers to challenge Nicki Minaj. It's a tired, played-out move of pitting women against each other in an industry that is clearly lacking the female presence on a large scale.
The problem with this competition is that it doesn't exist in the same manner for men. You can be a Drake fan, a Kendrick fan, a Tyler the Creator fan and have no pressure whatsoever to choose. The comparisons are minimal and the artists are appreciated for their individual creativity.
"Mumble rappers" and every "Lil whatever" and "Young whatever" can have their own fanbase and thrive in their own lane, but with females it feels as if it's a "choose one and one alone" deal. The industry is to blame and in turn, the fans and the enjoyment of "cat fights" and diss tracks.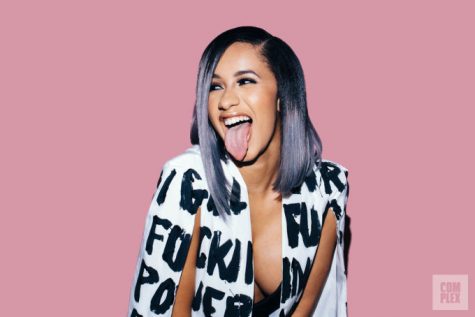 Cardi B and Nicki Minaj are another example of females in hip hop being pit against each other and becoming the subject of multiple twitter fan feuds.
Cardi B, an up and coming rapper, debuted her single "Bodak Yellow (Money Moves)," topping the Billboard charts at number one for three weeks. It's been almost 19 years since a female rapper has topped the charts without any featured artist.
Is Cardi B another one-hit summer jam artist like Iggy Azalea, or does she have the staying power and strong enough team behind her to build her brand and music career to be something of a Nicki Minaj?
Recently, the two rappers were on a track titled "Motor Sport" with the Migos. Many fans of both and the genre in general were pleased to see the two collaborating instead of a Nicki and Cardi diss track battle.
On twitter a fan wrote, "CARDI ATE. NICKI ATE. THIS IS WHAT FEMALE RAP UNITY SOUNDS LIKE. I NEED THIS TREND TO CONTINUE.#MotorSport." Another tweeted, "I'm only listening to #Motorsport all day u don't understand I love y'all @Nickiminaj @iamcardib smart ladies!"
This collaboration is a big deal for female hip-hop. The fact that Nicki is acknowledging Cardi's presence through the collaboration might be a sign of changing times. There are two major female rappers in the game, bringing different skill sets to the table. That's not only refreshing to see, it's also hopeful as it opens the door for more female rappers to gain entrance into the rap game.