iChakras fuses spirituality and science in the heart of Silicon Valley
Caffeine from Peet's and carbs from Le Bou aren't the only mental health offerings in Downtown Los Altos. On the corner of Main and First Street, iChakras's shelves are stacked to the brim with healing crystals, meditation chambers modeled after the Pyramids of Giza and chakra analysis via brainwave monitoring — but crystal-infused body butters and water bottles barely scratch the surface of what it provides.
Since 2016, business owner and founder Krystal Starr has combined both science and spiritual wellness for holistic healing; her services include the aforementioned crystal products as well as guided meditation, life coaching and chakra consultations.
"The word chakra literally means energy," Starr said. "Imagine these balls emitting frequencies in your body. They are all responsible for your mind, your body and your spirit, and each one holds a different responsibility."
Starr wanted to share holistic healing with her community even before starting iChakras. Her mother, a meditation teacher, introduced her to guided meditation as a child; she went on to inform her training under the tutelage of spiritual leaders and monks, where she learned not only about the complexities of the chakra system, but also how to reconcile her Christian beliefs with her Eastern practices.
"The more I learned of spiritual wellness, the Bible and science, the more I realized it's all connected," Starr said. "It's all just different aspects of the same goal: to heal and to reach a higher consciousness."
With her knowledge, Starr opened a small business offering one-on-one life-coaching and meditation sessions, but felt that her services strayed too far from her primary goal of teaching people about the power of God.
So Starr says that when a huge fire started in her office — a day after she prayed to God to further her work — she saw the event not as a tragedy, but as an opportunity. With her old office burned to the ground, she opened iChakras shortly thereafter and hasn't looked back.
"I realized that it was God answering my prayer in the deepest, most profound way," Starr said. "iChakras is so much bigger and so much grander than what I had before. It taught me that when God's doing something, you surrender."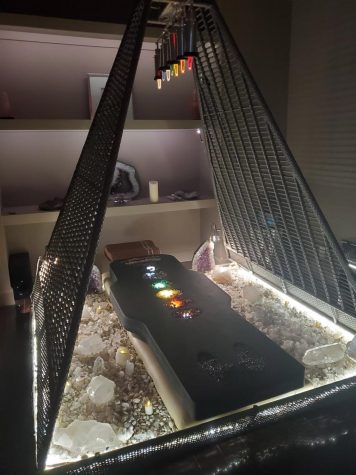 Starr says she turned to God again during the COVID-19 pandemic, when safety concerns meant she could no longer rely on in-person sessions or tools like "chakra bowls," which are Tibetan standing bells she says emit chakra-targeting frequencies. Realizing that her only tool was her voice, she returned to her core spiritual beliefs.
"I couldn't use the chakra bowl through Skype, the sound doesn't come through the same," Starr said. "I decided to start praying for my clients, teaching them about my belief in the power of God and leading them to pray for themselves — mimicking things that Jesus did in the Bible, like asking God to send power through him to heal other people. It was so powerful, so miraculous, that it was stronger than any of the bowls."
While Starr expected engineers to be drawn to her business, she found that about 50 percent of her clients were local students; she attributes this demographic to academic stress. She has developed personalized forms of meditation she claims can help students struggling with ADHD, OCD, anxiety or depression obtain better grades.
"The school system is so difficult for a lot of students," Starr said. "People travel all over the world just to go to the schools [in Silicon Valley]. But on the flip side, the stress of it is creating depression and anxiety."
As part of her current healing arsenal, Starr uses headband-like devices equipped with sensors that are meant to track the frequencies of different brain waves — alpha, beta, delta and theta — in response to stimuli like chakra bowls. The sensors then upload the data onto a mobile app developed by iChakras called "Smart Healing," which will be released to the public following its private testing stages.
She says that theta brainwaves — associated with mindfulness and healing — occur at a greater frequency when the individual has entered a "spiritual awareness state." By analyzing brain activity, she explained that she can see which treatments best suit a specific client.
The app is also meant to help STEM-minded individuals visualize how her treatments work. Starr believes that she operates in the realm of "intelligent chakras," with scientific studies informing her work with frequencies.
"The majority of my clients are normally engineers, people who are coming from the tech world," Starr said. "How is the engineer-type brain, trained to think in numbers, going to suddenly shift into the idea of wellness, which is vague? My goal is to bring these two worlds together."
Leave a Comment