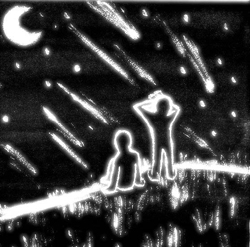 Falling stars ascending to earth and streaks of light pattering the sky mean it is one of the most enchanting sights in the universe. It is a meteor shower.
"[Watching meteor showers] is mesmerizing and out of this world," said sophomore Jade Hua, who viewed the Kappa Cynids Shower on Saturday, August 8. "The meteoroids look like tiny streams of white dust swishing through the sky like fireworks, except [they travel] super fast. It's like the sky is winking at you."
Astronomers anticipate the peak of an extra exhilarating show of exploding lights and sailing stars on Tuesday, November 17 and Wednesday, November 18 from the Leonids, also known as the "King of Meteor Showers." This year's incandescent display may generate more than 500 meteors per hour, ensuring a stunning spectacle.
Story continues below advertisement
Watching a meteor shower is as simple as propping a comfy lawn chair and staring at the dark sky. To maximize the number of meteors seen, students can utilize several strategies to enhance their shower-viewing techniques.
First of all, darker skies mean more visible meteors. While the brighter meteors can still be seen from the convenient suburbs, light pollution from illuminated street lamps and bright city lights tends to shroud the fainter shooting stars. Clouds, the moon and trees can also hide meteors. The best places to view showers include remote areas with clear skies and few obstructions. If every star in the Little Dipper is visible, the location is a prime spot for watching falling stars.
Several astronomy websites suggest that a desert is the best place to view a shower; however, it might be rather hard to find one in the temperate Bay Area. A dry desert can be easily substituted by an open, grassy field or a sandy beach such as the Santa Cruz shores. As long as students find a flat space with a clear, open sky, they will have the optimal view for shower watching.
After choosing a meteor-viewing post, determine from which point the meteors will spew. Meteor showers are named after the constellations they are near, so the Leonids shower will appear near the constellation Leo, which is situated in the eastern part of the sky.
Once the location is determined pop out a lawn chair and relax. Try to view as much of the starry night sky as possible. Do not try to focus on a single spot or use small binoculars or a bulky telescope, as both limit the number of shooting stars you see. Instead, allow the eyes to relax for better detection of meteor motion.
The best time to watch is between midnight and dawn, when the sky is the darkest and the Earth has rotated towards the shower. Meteor showers can last for days or even as long as weeks, but the peak, which is on Tuesday, will be the most thrilling night to watch. Bring along things you would usually take to a winter fireworks display such as hot chocolate, blankets, a camera, a constellation map, and a loved one. Remember to dress warmly; it will often be colder than anticipated.
Prepare to be enthralled by one of nature's most magical experiences.