"Hobbs and Shaw" takes on Polynesia
"Moana" and "Lilo & Stitch" have always been cute, cuddly films and two of my favorite Disney movies. But they weren't just fun films to watch with my family. They were the only times we saw people like us on screen. Even then, they weren't real people—they were cartoons. But the latest installment of the "Fast and Furious" film series, "Hobbs and Shaw," portrays Polynesian culture with real Polynesian people, which in Hollywood is rare.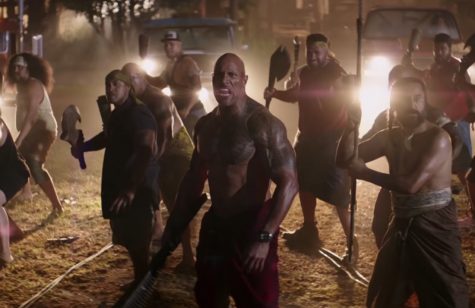 The movie itself features two main characters: Hobbs and, well, Shaw. Luke Hobbs (Dwayne Johnson) is an American D.S.S. agent who still makes time to coach his daughter's soccer team, while Deckard Shaw (Jason Statham) is a former British MI6 agent who is now a rogue assassin. Their intense rivalry from events in previous films prevents them from working well together. However, they are forced to set aside their differences when both are recruited by the Central Intelligence Agency (CIA) to stop Brixton Lore (Idris Elba) from obtaining a deadly virus that could wipe off the entire population.
As a fan of the "Fast and Furious" films, I was looking forward to a spin-off featuring Hobbs. He was a compassionate, large man who looked remotely Polynesian and I was hopeful that the writers would match Dwayne Johnson's half-Samoan heritage with Hobbs's. 
And they did. Normally, we're only shown when characters take holiday vacations to Hawaii or other tropical island paradises, so the fact that Hobbs and Shaw actually adventure to Samoa—and not just as tourists—is definitely a step towards the widespread recognition of Polynesia I've been longing for.  
Seeing a major movie production portray Samoa as a real, nuanced place and watching the actors honor its culture earned my respect. In the movie, Hobbs decided to go "old school" by using old-fashioned weapons like spears and axes, wearing a lavalava (a traditional woven piece of clothing worn around the waist) and performing a war dance before battling with Brixton. Including these traditions really emphasized what a Polynesian is: strong, brave and diligent. Watching these cultural references unfold on the big screen made me feel proud of where I come from, which is something I normally feel internally, but often don't feel comfortable showing.  
Being born and raised in America, I never really saw people like me, and because of that, I didn't feel confident expressing my culture—I felt disconnected from it. The story of Hobbs finding his way back to his roots resonated with me because I understood how it felt to be detached from your culture. When Hobbs brought his daughter to meet his mother for the first time, I teared up. I'm actually Tongan and not Samoan, but it reminded me of when I spent time with my grandparents and it made me feel nostalgic. Spending time with my grandparents in Tonga played a big role in reconnecting with my heritage. I saw myself on that screen. After so many years of dealing with people who had both an indifferent and hostile regard for my ethnicity, sitting in a theater and watching it on the big screen reaffirmed to me that my culture is important and real. 
Of course, there were still some misinterpretations within the film, one of the most notable ones being that the background music when Hobbs and Shaw arrived in Samoa was a Tokelauan song, a different Polynesian culture. Additionally, some of the actors weren't Samoan. The actor who played Hobbs' older brother was actually Maori, another was Tongan and another brother, who was Dwayne Johnson's real life relative and actually Samoan didn't have any lines. This movie was portraying Samoa and Samoa only, so it felt unnecessary to cast people of different Polynesian heritages—we're not all the same. 
Overall, these little mistakes didn't detract from the amount of recognition the movie brought to Polynesia. I am still glad Hollywood was able to shine a little light on the South Pacific and I hope "Hobbs and Shaw" isn't the last of it. We have many stories to tell and certainly aren't done telling them.