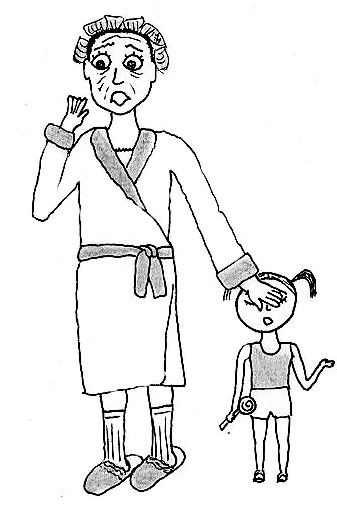 For five-year-olds, Halloween is about being an adorable little princess or Transformer. For 10-year-olds, it's about being cool, creative and scary. For 17-year-olds, apparently it's about being a sexy piece o'meat.
Halloween means different things to different age groups, but the principle is essentially the same: dress up, get candy and embrace the scariness. However, this principle of Halloween seems to go over the heads of one age group: teenagers.
As stated in the timeless classic, "Mean Girls," "Halloween is the one night a year when a girl can dress like a total slut and no other girls can say anything about it." Let's think about this: Girls tend to wear the same type of costumes every year, whether that be a sexy cop or a slutty school girl, and nobody ever seems to ever care. Huh?
Okay, so maybe some girls prefer to show a little extra skin on Halloween, but at least get creative. Should girls choose to dress a little more risqué than normal, they should try to be original and make sure not to take it too far. For example, if a girl dresses up as a straight-up stripper, that's not creative, that's just showing too much of what we don't want to see and giving teens a bad name.
Story continues below advertisement
To see if a costume is appropriate, a good rule of thumb to avoid falling into the trap of just being plain ol' slutty is this: If the word "Playboy" is in the name of the costume, skip it. The same goes for the words sexy, hottie, steamy or French-maid.
Instead, go for something like 60s Flower Power Barbie (yes, that's my costume this year). It might be more "out there" than something I'd normally wear, but it is still appropriate enough to wear when walking around the neighborhood. Another idea might be to dress up in a princess or mermaid costume that allows girls to show some skin but still look cute.
Now, it may seem easy to predict what kind of attire girls will don for Halloween, but what about guys? Most guys opt to not dress up, thinking they are too cool for costumes, and the few guys who do dress up think they are even cooler than the guys who don't.
Teenage guys' costumes usually involve anything shirtless to allow them to show off their hot bods. You know what I'm talking about: the togas, lifeguards and "300" costumes. This skin-showing effort makes the dudes who dress up no better than the gals in the nurse costumes, but maybe that's why no one complains. They're all in the same boat. They are all just looking for the same thing: to excite the raging hormones of the opposite sex.
So, it might be okay to show some skin, but keep it appropriate and be creative! Dress up with a group of friends to keep each other in check, and don't be afraid to go with a funny or scary costume. Just don't be so skimpy that when people ask what you're wearing, you have to answer like Karen in "Mean Girls": "I'm a mouse, duh!"