Haiti Solidarity Club Expands to Middle College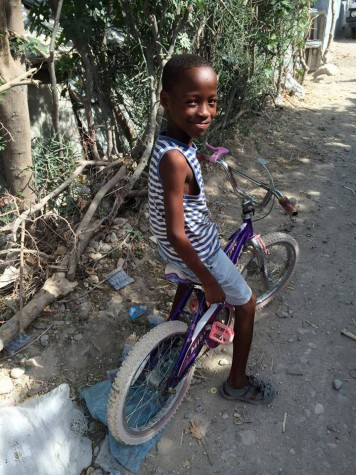 Haiti Solidarity has long been a part of the school's culture and is now an important part of another community: Foothill Middle College. Two former LAHS Haiti club members, Middle College seniors Marie DeShetler and Lia Whitney, are taking their inspiration from Los Altos to their new club at Middle College. As the seniors began attending Foothill College they realized that they wanted to bring the club's values of helping others, spreading kindness and educating the community about Haiti to the campus.
"We knew this year would be the perfect year to start up again, because we really never forgot about it," Lia said. "It was always something we knew we were going to keep pursuing, we just had to find the right time to start."
They currently have about 15 members and meet every Thursday from for one hour on the Foothill Campus. As for the community, they are trying to get everyone involved by educating them on Haiti's situation and bringing them to action by involving them in different activities.
"A lot of it is about educating people about what is going on in Haiti just so the people are aware," Marie said. "And even if they don't [want to] donate money we're offering different ways to get involved. We have the solidarity farms, so we're [going] to be selling seasonal vegetables [and] people can sign up for Community Supported Agriculture packages. "
Fundraising is a large part of how their club is able to help Haiti. The club began with a rummage sale on Saturday, November 7, which will be followed by a garage sale on Saturday, November 28. The rummage sale is particularly important, as it exemplifies the ideals of their club because everyone is able to benefit from it. Their goal is to raise $20,000, and the rummage sale brought them closer to their goal with $840.
"The students who are getting involved are being able to take on leadership roles," Marie said. "[They] gain awareness of what's going on locally while also working to help other students who are benefiting. So everyone kind of wins in the rummage sale, you are paying a few bucks for something that would be so much more expensive."
If they would be able to make a trip to Haiti this year, they would go in March-April during break. They plan to do some construction, work at medical clinics and teach SOPUDEP students. Despite the possibility of not having the trip, they still remember it from their days at LAHS as a memorable and life-changing event, one with so many moments that they will never forget, and that powers their motivation for the club today. Marie recalls one specific moment at a medical clinic while visiting in Haiti.
"There [were] so many patients that came in that haven't eaten in days or were sick with things that were very terrible," Marie said. "For me to see that and connect with them on such a human to human level, all you want to do is help."
Leave a Comment