'Glee' sings and dances on Fox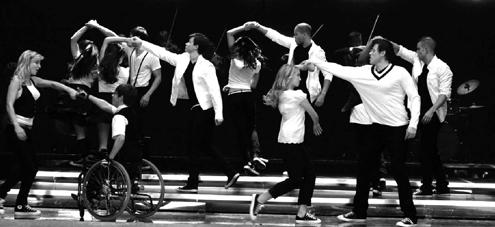 The energetic cast of "Glee" dances and sings on the new Fox series. The show airs every Wednesday at 9 p.m.
At first, Fox's "Glee" may give viewers a bit of a cheesy "High School Musical" vibe, but after finishing an episode or two, it will have them hooked. "Glee" is a clean show appropriate for all audiences, yet has enough subtle sexual references to keep the average teenager interested.
The show follows McKinley High School's glee club and the challenges the members face being at the bottom of the social ladder and trying to make it to Nationals. The plot intertwines a tangle of love interests and love triangles between the teachers' as well as students' lives.
Although a sudden unexpected pregnancy is introduced a little too early in the show, making the audience question whether the show is a realistic depiction of high school or just a "Secret Life of an American Teenager" sequel, the show pulls it off by making its drama unique.
The characters are all immensely different in their roles and personality. They have the cocky jock, Noah "Puck" Puckerman (Mark Salling), the Broadway nerd, Rachel Berry (Lea Michele), the head cheerleader, Quinn Fabray (Dianna Agron), the big man on campus, Finn Hudson (Cory Monteith) and the insecure gay guy, Kurt Hummel (Chris Colfer).
The show incorporates both Broadway and pop music and never ends an episode without bursting into song. The music is simply amazing, but the amount of talent in "Glee" students' voices seems fake. However, all the actors do their own singing, and just lip sync to their recordings.
Although "Glee" is not the most accurate depiction of high school with its bullying theater kids and spontaneous bursts into song, the absurdity makes the show all that more entertaining.
To listen to the beautful voices of "Glee" students, pick up a copy of the first volume of their soundtrack, "Glee: The Music, Volume 1," which came out on Tuesday November 3.
Music: 5 out of 5
Story: 3.5 out of 5
Acting: 3 out of 5
Leave a Comment