Girls volleyball nets win in regional semifinals
Since attaining an impressive 10-2 league record and placing third in CCS Division 1, the varsity girls volleyball team qualified for the Division 2 State Tournament. On November 12, the players competed in the Northern California Regional Semifinals, the third round of the tournament, and defeated Argon in a 3-0 victory. This will be Los Altos' first return back to the Regional Finals since their loss in 2014.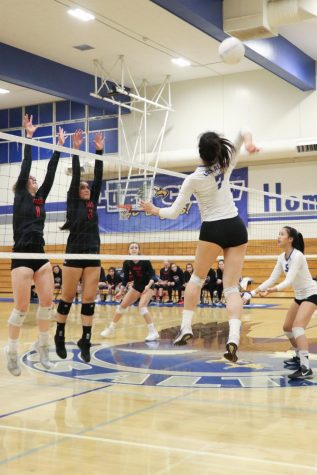 In the first set, both teams began strong, with neither team gaining a significant lead. However, the momentum shifted once senior libero Kaitlyn Wong stepped to the service line. Kaitlyn served two aces in her five serve streak, helping her team reach an 18-12 lead. With some well-placed kills by junior middle blocker Sydney Enthoven and senior outside hitter Tori Hausch, Los Altos was able to win the set 25-18.
The second set began similarly to the first, with both teams only attaining a small lead before the other team caught up. After missing a serve and failing to dig up a hit by junior setter/opposite Katie Kishton, Argon took a time out when they were down 15-12. A kill by sophomore Naomie Cremoux and two hits by Sydney placed Los Altos firmly in the lead with a score of 20-14. The Eagles would take the set 25-16 with a final block by Sydney.
Energized by the last set, Los Altos gained a quick 11-6 advantage. However, Argon began to chip away with some stuffed blocks and a couple strategically placed hits. After a 5-2 Argon run, Los Altos took a time out when the teams were tied 16-16. Soon the two teams went back and forth, neither attaining a lead larger than one point, and were eventually tied 23-23. After a clutch block by junior Claire Kwok, the Eagles led 24-23. With the game on the line, Naomie tooled her hit off the blockers hands, and secured the win for the Eagles.
After the match, all of the players were excited to have won such a momentous game. Junior co-captain Katie Kishton attributes the win to the crowd and to the team working on the basics.
"I think this is a real big victory for our team…[and] I think really it was our energy and our serve receive was my much better than it normally is," Katie said. "It was just amazing, and the Blue Crew came out and [was] so inspiration—it was great."
The Eagles hope to continue their win streak tomorrow,  November 13, in the Regional Finals against #5 seeded Cosumnes Oaks.