Girls Volleyball Downs Paly
On Tuesday, September 29, the varsity girls volleyball team conquered the Palo Alto Vikings 3-0, bouncing back from last week's tough loss to Mountain View.
"It's just exciting that we've got another win down," senior co-captain Alexis Malgesini said. "We're just hoping to battle more in the future and get more wins."
The team started off strong and consistent in the first set. Despite clean spikes and strong serving, the Vikings were no match for the Eagles' several solid blocks by sophomore Hanadi Nassif and senior Megan Wilhelm, and Los Altos took the set 25-19.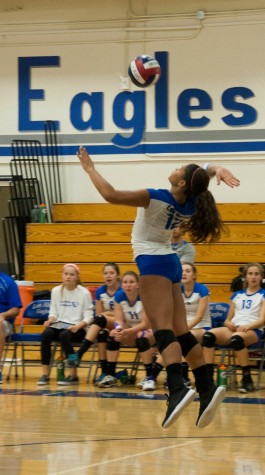 In the beginning of the second set, the Vikings jumped out to a four-point lead, forcing Los Altos head coach Peter Kim to call a timeout. Coming out of the break, Los Altos came back with better communication and team spirit. Led by three consecutive spikes by senior Lulu Kishton, the Eagles took the set 25-18.
Starting the third and final set, the Vikings narrowly pulled ahead, but two aces from Alexis gave the Eagles a firm lead. Ending the game with a tough kill by senior Megan Wilhelm, Los Altos came out on top 25-20.
"We were really consistent throughout the match which was a big deal," Alexis said. "We didn't get too high or too low throughout it. Our energy started pretty low but we built that up and maintained it throughout the match which was really helpful for us."
The girls volleyball team's next match is an away game on September 30 against Westmont. Their next home matchup is Thursday, October 8 against Saratoga.
Leave a Comment