Girls Tennis Starts Season Off Strong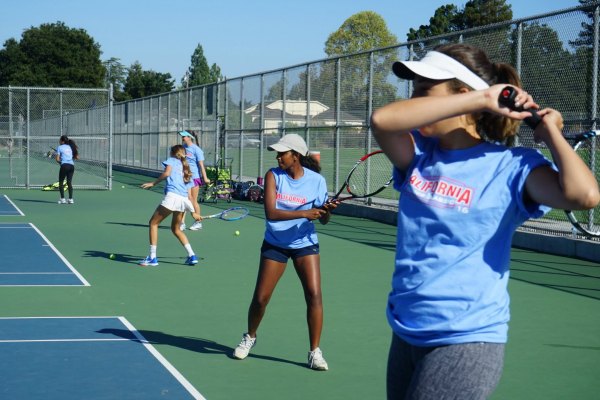 The girls tennis team started their season off strong on Tuesday, September 13 with a 5-2 win against rival Archbishop Mitty. The girls also clinched a pre-season victory at the California Tennis Classic in Fresno on Saturday, September 3, winning Division II of the tournament with a score of 4-1.
The team has big goals for this season, hoping to win leagues and continue on to CCS.
"[Because of last year's win-loss record] we got moved down to the lower league, so that gives us a chance to actually win the league and make it to CCS playoffs," Coach Hung Nguyen said.
The team dynamic has changed this year with the departure of former seniors and the arrival many new players.
"Last year there were so many seniors and they all knew each other — it was very integrated," junior Aline Wu said. "This year, we had to work a little harder to get to know everyone since there are more new players, but [spending time together at] Fresno definitely helped."
The large number of incoming players affords the team more balance, which may work to their advantage.
"[The team is] more balanced this year, [with a] good mixture of veteran and new players," Nguyen said. "In high school tennis, you kind of need that balance to win as a team in terms of dynamics, that gives us a unique strength this year because we're balanced in terms of level."
Overall, the girls describe themselves as a fun, tight-knit and supportive group of individuals who are always cheering each other on.
"We're all pretty crazy, but in a unique way," co-captain senior Tessa Hocquet said. "We care how everyone does. If someone loses, you feel for them, because it's not just [about] you, it's [about] the team."
Leave a Comment