Girls soccer struggles in De Anza Division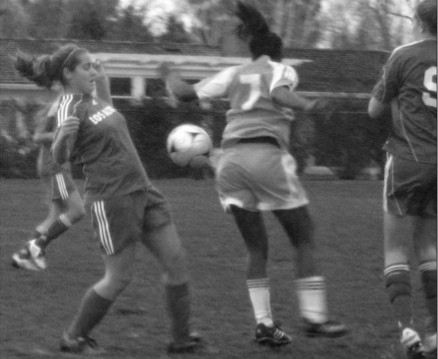 Sophomore Lauren Safai
reaches for the ball in a game against Mountain View High School. The Eagles look to play more offensively.
For the past four years, the varsity girls team has won several league titles and sent even more of its players to college with prestigious scholarships.
This year, unfortunately, has been different. A struggling offensive attack has left the Eagles with a record of 0-6-2 and near the bottom of the league.
"Our season has been harder than expected," co-captain senior Taylor Smith said. "We need to improve on scoring. We pass really well, but we can't attack as a team and score. … It's a mental problem that we have."
In addition to graduating 12 seniors last year, many of whom played varsity for 4 years, several key offensive players have suffered injuries.
Co-captain senior Katie Crum, a forward who has been recruited to Gonzaga University, is out for the season after suffering a torn ACL. Similarly, another co-captain forward senior Adi Yogev, a 4 year varsity player, is not playing at 100 percent since she is still recovering from a prior ACL injury.
In addition, the team has struggled to adapt to the new players on the team. There are 11 underclassmen on the 24 player roster, the most in 5 years.
The youth and losses due to injury have led to real defeats in the highly competitive De Anza Division.
The team is currently in second to last place in the division and is in danger of being relegated to a lower league if it falls into last place.
However, most of the defeats have been by less than two goals.
"We've been in almost every game creating chances and playing hard," Head Coach Erin Montoya said. "I feel we've been a bit unlucky in some games."
But the Eagles have enjoyed some success in the second half of the season. The Eagles recently tied Los Gatos, the number one ranked team in CCS, 1-1 and had plenty of chances to beat them as well. According to Montoya, the "team played great for the entire game, hit the cross bar two times, and missed a few one-on-ones."
This improvement has made the team excited about the rest of the season, with many players hoping to surge into CCS consideration.
"[We want to] stop making games close and put them away like we know we can," co-captain senior Noorin Dorosti said.
Leave a Comment