Girls Soccer
February 8, 2019
The Los Altos girls varsity soccer team had a rough start at the beginning of the season. However, the players improved greatly as they have reached first place in their division, the SCVAL El Camino division, with a record of 9-5-1.
The Los Altos Eagles lost three and tied two of the pre-season games, but they did not let the losses discourage the team from meeting their goals.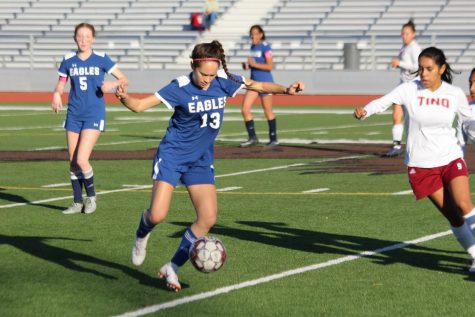 "The season this year has been really fun especially because we've been getting the results we want," junior Michelle Odnert said. "I'm very proud of how we didn't let a few preseason losses affect us, and we came into the league still willing to give it our all and try to get wins."
Coach Marcus Giovannoni noted that the greatest improvement he saw in the team was the group synergy. At the beginning of the season, the players did not know each other very well, and this affected the way they played.
"Once we got in our groove, we began working as a cohesive unit and winning more games," junior Kayla Brinkman said.
For the rest of the season, the team will focus on the technical aspects they need to improve on. They will practice drills and many exercises in order to ensure that they qualify for CCS.