Girls, boys water polo teams to compete in CCS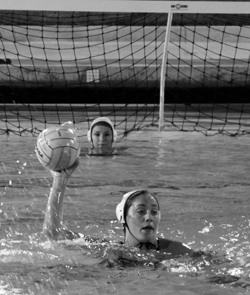 Senior Alex Santiago passes to her teammate during practice.
Girls Water Polo
The varsity girls water polo team is preparing for wins at CCS.
According to Coach Brian Whitlock, the team is "fifth or sixth in [the] league" and is "definitely going to qualify for CCS."
The team lost one league game. Its overall record is 19-4.
"We did take a single loss versus Los Gatos," Whitlock said. "We've gone undefeated the last three years and have cruised through our games, so we're going to have to work hard before CCS."
According to Whitlock, in order to win after the team qualifies for CCS, the team needs to take advantage of "putting six on five offensively," used when a player on the opposing team receives a penalty. The offensive team can set up its offense with six players and will therefore have an advantage over the defending team with five players.
According to Whitlock, the team's defense is doing well.
"Ninety percent of the time we can keep the other teams [scoring] under five goals," Whitlock said.
Boys Water Polo
The boys varsity water polo team currently has a 13-0 record in league, an 18-5 record overall and is first place in its league. According to Coach Ed Samuels, the season has been going "about the same" in comparison to past seasons.
"We lost a couple games, but the competitors are a little more competitive than in years past," Samuels said.
Because of its place in the league, the team qualified for CCS.
Samuels expects CCS to be very competitive this year.
"There are very good teams in Division I so whoever we play will be one of the top 10 teams in our section," Samuels said.
The team has not lost any league games. Nevertheless, the team members will be working hard to perfect their skills in hopes of winning at CCS.
"The team's offense has been going very well, but the defense could be more accurate," Samuels said.
The varsity boys water polo team will be competing in CCS on Saturday, November 21.
Leave a Comment