Girls basketball aims for league title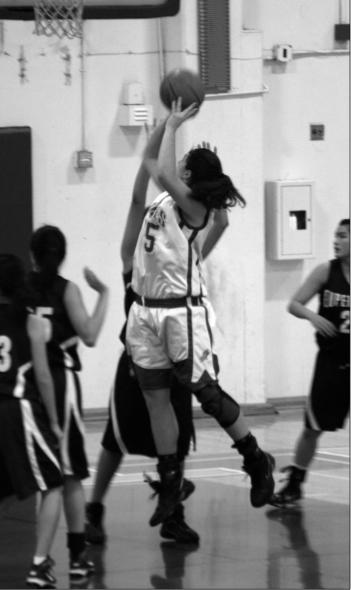 Senior Paige Logan
goes for a layup. The Eagles are second in league.
The varsity girls basketball team is aiming to make CCS this season, as the team is second in the El Camino League with a record of 6-2 as of press time.
According to co-captain senior Katherine Portelli, this season has been one of the best "in a while."
"I'm happy about the way our season has gone so far," Katherine said. "The last couple seasons our team has struggled a bit, but this season we have really stepped up our game."
Varsity Head Coach Keith Mims also feels that the team is stronger this season.
"This year we are a taller team," Mims said. "We are deeper [in terms of skill] on the bench … than last year."
Mims believes the team is stronger because more girls on the team participated in a summer league this year compared to last year's team.
The team has shown its improvement during games. Recently, the team beat Homestead High School 62-50.
In years past, the team has been tied with Homestead in overall record. Although it was able to beat Homestead last season, the team won only by a single point. This season, the Eagles were able to build a 20-point lead during the third quarter of the game.
"That was one of the biggest wins in [LAHS girls basketball] varsity level of all times," Mims said.
Sophomore Lauren Amorese said a key to beating Homestead was the team's strong defense and strategy.
"We knew that they were fast, as well [as] who their strongest players were," Lauren said. "So we were able to strategize around that. We were just ready for [them]."
Although the team lost its game against Milpitas High School, the game was one of Katherine's favorites.
"We played, and their court and the crowd were very involved with the game," Katherine said. "I think that next time we meet things will turn out differently, and I am excited for our next game."
The team won its previous two games by large margins as well. It defeated Fremont High School 58-48 and Santa Clara High School 48-33.
Individual team members have also had successful seasons. On Sunday, January 24, senior Paige Logan was featured on the Cal-Hi Sports segment of KOFY 20 for having impressive CCS records this season. According to Cal- Hi Sports, Paige is averaging 12 points a game and is leading CCS with 18.3 rebounds per game.
With a promising season ahead, the basketball team's next goal is to qualify for CCS. Although the team did not qualify last year, Mims is confident that the team has the ability to make CCS this year and possibly to do well.
"That's our goal: to get into CCS," Mims said. "But also to rank within the top eight in CCS–that's our second goal."
Leave a Comment