German Exchange Student Attends School
Several foreign exchange students attend the school each year hoping to receive an educational experience in America and improve their English. Sophomore Flo Schauer is one of them.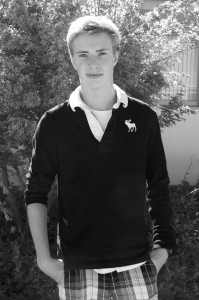 Arriving from Germany this fall, Flo is staying with his cousins in Mountain View, but is attending LAHS due to its proximity. With his parents staying back in Germany, Flo has taken the opportunity to receive an American education and is making the transition by himself. However, Flo is planning to stay here for only one semester; at the end of the semester in January, he will depart for Germany. Since Germany's summer break ends before he returns, Flo's friends in Germany have been notifying him on the work he is missing while away in America.
Because learning a foreign language is encouraged by the German educational system, Flo has traveled to America in hopes of improving his spoken English. Other reasons for moving include the opportunity to see a new culture, to make new friends and connections and to receive a notable educational experience. So far Flo has enjoyed his time at school.
"[There's] actually only great things [to say]," Flo said. "I have great friends and good grades. I have awesome teachers. It's been an overall great experience."
Having only made two short trips to the United States, Flo has found challenges with communication and the English language. He is determined to gain as much knowledge as possible and improve upon his English speaking during his time at school.
"I had the basics of English, like talking in the future or talking in the present [before I came to LAHS]," Flo said. "I learned a lot of new vocabulary, and if you multiply that by 150 days, it will be a lot of vocabulary. So actually, it is great."
Flo has taken special interest in classes including Contemporary World Issues, World Literature and Physics. However, still learning the English language in depth, Flo spends much more time working at home than in past years in Germany.
"In Germany, we don't take notes on everything, we just listen," Flo said. "The main difference between here and Germany is that in Germany the homework takes me 15 minutes, and here [the homework] takes me 4 to 5 hours."
Aside from school, Flo dreams of becoming a pilot, and as for extracurricular activities, he is involved with sports including badminton, tennis and soccer. However, because he will move back before these seasons start, Flo is unable to participate.
Having never been to the east coast, Flo hopes to get the chance to visit and explore. On the west coast, Flo has been to Las Vegas, Los Angeles and several different national parks.
Although he has enjoyed the warm atmosphere in California over the last couple of weeks, Flo finds himself still drawn back to his home country.
"I could imagine living in America," Flo said. "[However] I miss Germany a lot, like my family, my friends and the whole country. I like the [German] culture, I like the food, [especially] the unlimited speed on the highway."
Leave a Comment