Funding Complications
March 1, 2020
According to principal Wynne Satterwhite, the MVLA School District allocates a total sum of money to the school based on enrollment, which she then distributes to individual departments. This distribution is based on departments' previous budgets and is adjusted to meet further individual needs. 
This 2019-2020 school year, the science department received $19,000 from the school, according to science department coordinator Darren Dressen. On the other hand, the school supplied the visual arts department with $3,055 for materials, according to art teacher Christine An.
Because there are 75 sections of science—which includes the traditional classes in biology, chemistry, environmental science, biotechnology, physics and forensics—this amounts to roughly $8 per student, assuming an average class size of 30. With only 18 sections of art, and far fewer students, their funding amounts to $20.36 per student. 

The school provides the music program with around $6-8,000 per year using district funds according to instrumental music department coordinator Ted Ferrucci. He says Satterwhite is very generous in her willingness to find a way to get more money if the instrumental department needs it. 
However, the school is not the only source of funding for these departments. They also receive money from grants, donations, or directly from the district. The amounts of these outside funds vary significantly, which may contribute to the overall impression that STEM classes are valued more than art at Los Altos. Dressen's single section of Advanced Science and Investigations (ASI), for example, received $15,000 from the district.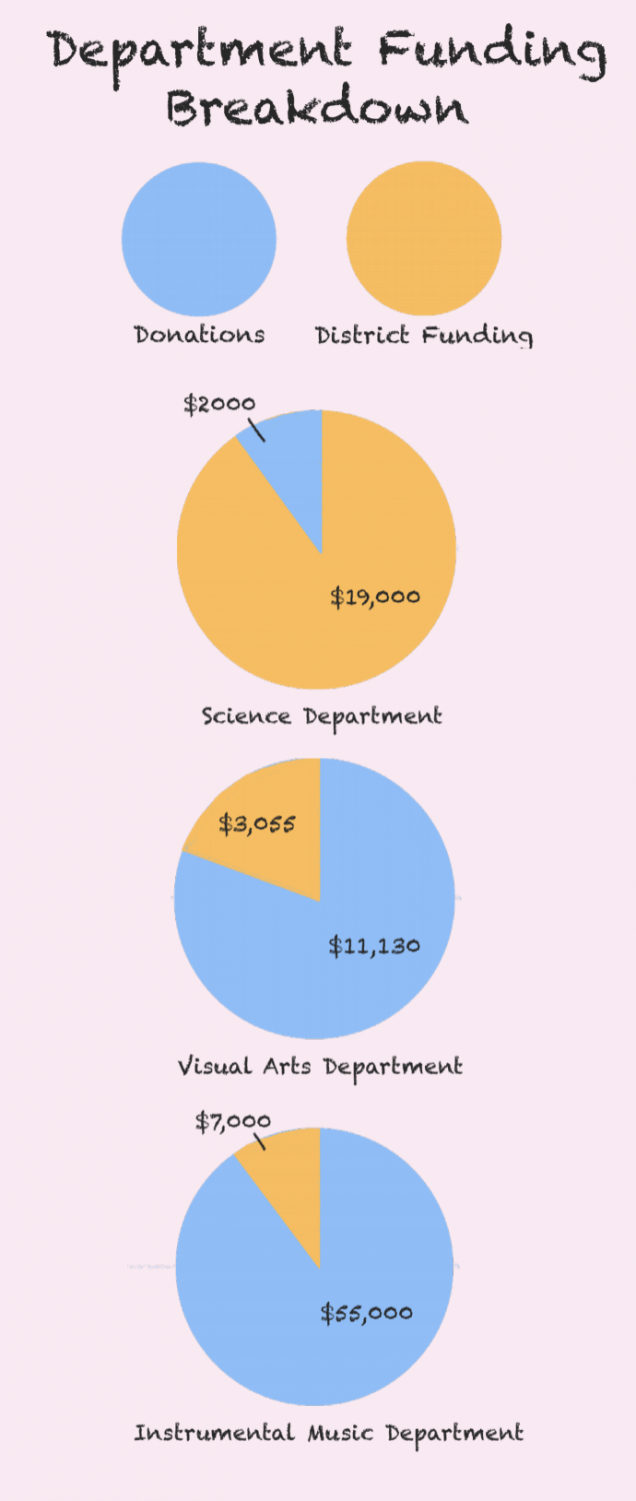 This impression is further complicated by the fact that the Los Altos Academy of Engineering and Design receives funds entirely separate from the science department. AP Physics teacher Stephen Hine and math teacher Adam Anderson received $10,000 four years ago from the MVLA Foundations Innovative Learning Grant to buy starting equipment like 3D printers for specialized classes like Design and Prototyping and Robotics. 
This program gained more traction when former associate superintendent Brigitte Saraff wrote a Career and Technical Education (CTE) Innovation Grant for the academy, which this year alone provided $100,000 to the program for materials, equipment and training. The grant provides funding for the first two years of each course the Academy develops, and the district is expected to pick up that tab after the grant expires. 
But grants like these are not as easily available to the art department. Art teachers do not have the CTE credentials required to apply for a CTE grant. Even if they could be appropriately credentialed, they would need to substantially change their curriculum to qualify for an Innovation Grant. According to An, the department has not applied for grants designed for art because the requirements do not align with their current needs; they are either project-specific or pay for unneeded large equipment rather than standard art materials. 
As a result, the visual and performing art departments rely on donations from students and families to meet additional needs. 
The visual art department requests a $50 donation from each student in introductory art classes and a $100 donation from students in AP art classes. The total amount of student donations this 2019-2020 school year amounted to $11,130. 
"Art supplies are so expensive, especially for photography, so we rely heavily on donations to purchase materials and we always have to be very careful with what we are spending," art department coordinator Jessica Hayes said.
Similarly, the instrumental music department relies on a booster organization to raise roughly $50-60,000 per year to support band staff and all instrument repair and instrument purchases according to Ferrucci.