From pro gaming to pro teaching, this man's talents add up
January 22, 2020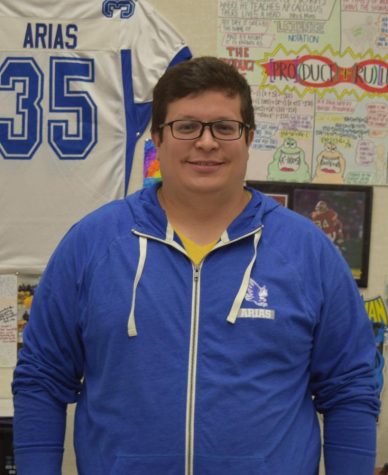 In math teacher Hector Arias's classroom hangs a jersey from his time on the football team at Los Altos fourteen years ago. In his senior year, neither Arias nor his teachers expected he would be returning to teach Algebra 2 and AP Statistics.
"I was kind of shocked when he reached out to me last year and said he was going to be applying to work here," Arias's former math teacher Teresa Dunlap said. "I knew him as a sophomore when I had him, so to see the growth from his sophomore year in high school till now was amazing."
Back in high school, Arias had not even considered teaching a career option.
"I didn't know what I wanted to do," Arias said. "One of the biggest changes now is that there's a lot more support when it comes to colleges and careers."
Right after high school, Arias worked in retail and out of nowhere found a living in professional gaming.
"This was really at the start of professional gaming," Arias said. "I was playing a game called Gears of War, and I met with some people who were really good, and we went to a tournament and we won some money. From there it carried on."
Later, during a transition back to a more conventional career, Arias returned to school at De Anza College and started tutoring, which became a path to a teaching career.
"I wanted to make changes and make sure that students don't feel lost, always feel welcome, and that they have somewhere to go," Arias said. "Students need a teacher who is going to help them find solutions to homework, but also solutions to life."