Freshman Lauren Soobrian races her way to gold
Winning a varsity cross country race is a significant achievement. Winning the first race of the season as a freshman is even more impressive. But winning an almost three-mile race despite getting lost multiple times? That wins the gold, just like Lauren Soobrian did at her first high school meet. 
On Saturday, September 7, the Los Altos cross country team boarded a bus at 6:45 a.m. and headed up to San Francisco's foggy Golden Gate Park for the 2019 Lowell Invitational Meet. Due to the rainy weather in the park, the race paths were reconfigured to route the runners through less muddy areas. This left Lauren, the leader of her heat, with no one to follow on the unfamiliar terrain. 
"The course wasn't really marked that well," she said. "I had to ask the girl behind me which way to turn."
 Near the end of the course, Lauren said, they were both misdirected to go down a hill. When she reached the bottom of the hill, one of the volunteers monitoring the course informed Lauren that she had to run back up.
"I was confused [about] which way we were going, and I was kind of freaking out too," Lauren said.
Nevertheless, she heeded the instructions, swallowed her irritation and found her way back onto the course. Despite the confusion, backtracking and additional mileage, Lauren ran the fastest time out of 182 varsity girls, completing the 2.8 mile course in 16 minutes and 39.3 seconds. 
What was originally counted as a course record for the victorious freshman has been withdrawn, as this year's course turned out to be 0.13 miles shorter than the usual route. Still, Lauren's success so early in her freshman year is promising, and head cross country coach Steph Mackenzie is excited to watch Lauren challenge some of the school's cross country records throughout her high school career.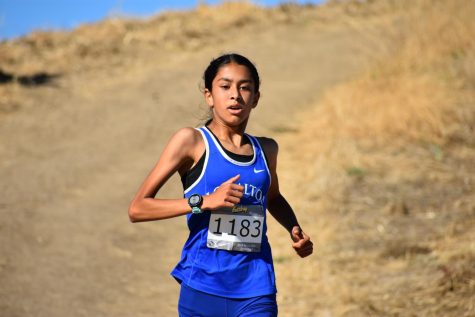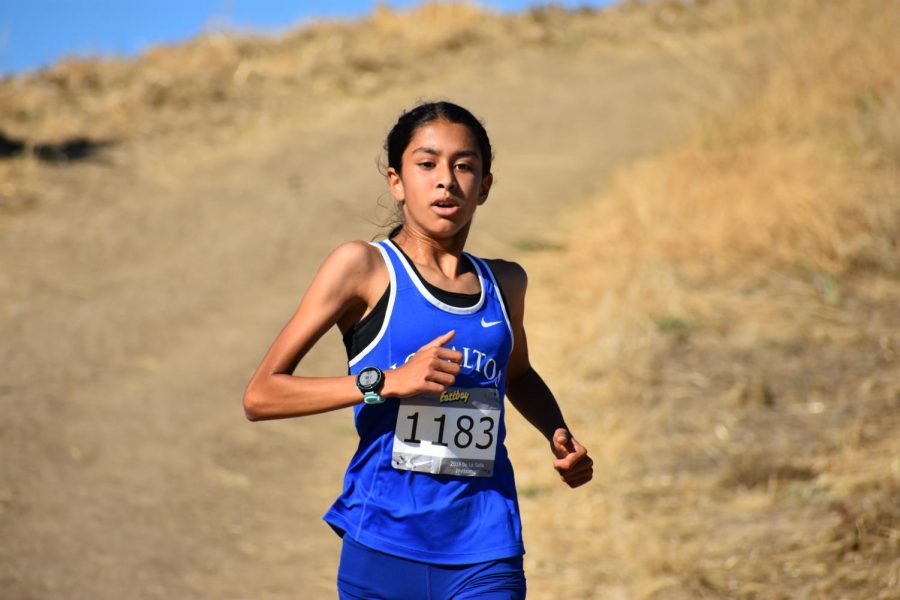 Lauren is currently the fastest runner on the varsity girls cross country team and is one of the six underclassmen girls competing at the varsity level. However, she is dealing with more than just the pressure that comes with being a top varsity athlete. Aside from navigating steep hills and long Saturday runs, Lauren is also navigating a recent move back to the Bay Area.
Lauren grew up in the suburbs surrounding San Francisco—less than 15 miles from Golden Gate Park—but she and her family moved to Vancouver, Canada, in 2015. There, Lauren attended Crofton House, a private all-girls school where she discovered her love for running. Her fifth-grade teacher's obsession with running laps introduced her to the sport, and she eventually joined the cross country team. In Canada, high school starts in eighth grade, but during cross country meets, the eighth graders were grouped into their own category and didn't race against the older girls. Since her return to the Bay Area this past summer, Lauren has been training and racing with athletes up to three years older than her.
Lauren said that running with the team, along with support from her family, has made her transition much easier. When she signed up for high school, the first thing she and her parents looked for was the cross country team. 
As she reflected on that initial excitement, Lauren said, "It's just been a really positive experience. I've gotten to meet a lot of new people."
When asked about these "new people" that Lauren has met, Mackenzie laughed. 
"She's doing workouts with some of the varsity boys, although I don't know if the boys want to comment on it," said the coach. 
But senior Luke Sage was more than happy to compliment his freshman teammate. 
"It's been really, really cool," he said when talking about running with Lauren. "It's just shocking how fast she is."
"
It's just shocking how fast she is. "
— senior Luke Sage
Lauren continues to shock audiences with her speed, racing her way to the top of the region's ranks and proving that her first meet was not just a fluke. Just this past weekend, at the De La Salle Nike Invitational Meet in Newhall Park, she placed second out of 207 varsity girls with a time of 18 minutes and 6.76 seconds on the three-mile course. 
However, even with all this early success and excitement, this freshman is keeping her options open. Lauren is focusing on improving her times this season and adjusting to high school life, and she is still unsure if she will pursue running in college. Nevertheless, she says she is certain that running will always be a major part of her life.