Freestyle welcomes new design teacher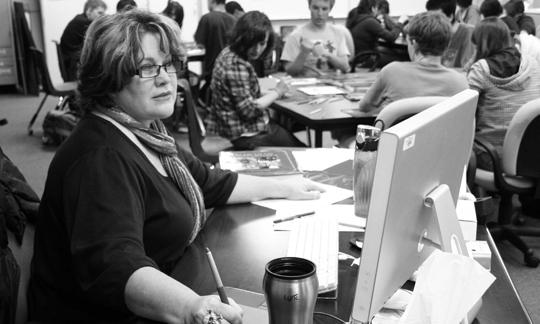 New design teacher Leslie Parkinson
has replaced Elizabeth Pedinotti at Freestle Academy.
When the previous design teacher Elizabeth Pedinotti left the school for an artist residency in Buenos Aires, Argentina, Freestyle Academy found its replacement in Leslie Parkinson.
Parkinson started at Freestyle this semester and was previously an art teacher at Nipomo High School in Pismo Beach, where she taught design, Studio Art AP and Art History AP.
Parkinson said she came to Freestyle since it embodied the "entirely different approach to education" she was looking for.
"Freestyle was the last listing on the last page [of Edjoin. com]," Parkinson said. "When I read the description, I knew it was totally my school and exactly what I wanted to do."
For Parkinson, everything about being part of Freestyle's program as a design teacher seemed "meant to be." Parkinson was particularly excited to teach in an environment different from that of a more traditional high school, even if it was a change from what she was used to.
"It's even better than I expected," Parkinson said. "I knew it would be different. And in some aspects, I do miss the traditional culture of the bells, the cafeteria and the basketball games. It feels more like teaching at a college level, which is something I've wanted to do for a long time."
According to Parkinson, coming to Freestyle during the middle of the year was a hectic time to begin her job. At that point in the year, many students were spending a lot of time finishing their work in time for Freestyle's mid-year exhibit on Thursday, January 28.
Parkinson admires the effort Freestyle put forth for the exhibit as well as the support of those who attended.
"In terms of exhibits, I'm used to maybe around 100 people showing up and it being just families and parents helping cook food and organize it," Parkinson said. "This was just awe-inspiring … because I felt like all the work done by the students at Freestyle matched the level and competency of AP art students. It was nice to see the quality of work produced and all the people there to support it."
Parkinson feels fortunate to be working with the "Freestyle family" and staff as part of a unique teaching style.
"Everyone here seems to be so good at what they do," Parkinson said. "Being able to work and teach at Freestyle is amazing. I feel like no one carries anyone else's weight, and from a technical standpoint, [Web Production and Audio Engineering teacher Leo] Florendo is so great in making sure everything runs smoothly."
Leave a Comment