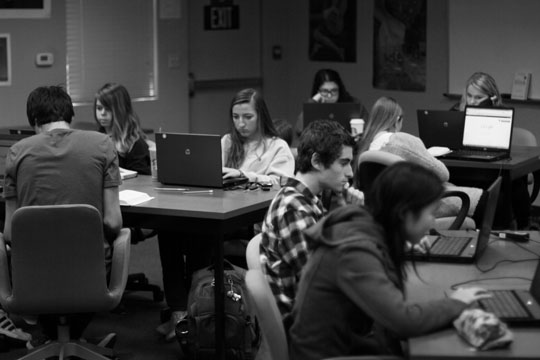 On Thursday, February 2, Freestyle Academy held an exhibition at the Computer History Museum in Mountain View.
The exhibition featured art work, photography, films, animations and websites that the students created. Out of the three exhibitions that Freestyle holds annually, this exhibition was tailored the most toward the seniors. Students created websites and animations, which were shown through laptops in the room with the artwork. Some of the pieces were sold and the money will go partly to charity and partly to Freestyle.
"I want to show my parents," junior Janna Wang said. "It'll be really cool to show them how driving me to places at 9 p.m. at night … helped me make this movie."
Story continues below advertisement
This year the seniors were assigned their Senior Projects during the first quarter. But because of this, only a few chosen pieces were shown during Freestyle's first exhibition.
"The Senior Project was where you had to choose something to profile, but you have to involve yourself in a way," senior Annalise Tahran said. "For mine, I went camping and focused on nature and how it takes you away from your surroundings and technology. It was funny because at Freestyle we're surrounded by technology."
Juniors created narrative diptics, two photos put next to each other to juxtapose and create meaning and illustrations.
"It's basically a build up of what we learned this year," Janna said. "It's a really good opportunity to check out the talent that we have at Freestyle."