Football plays Mountain View today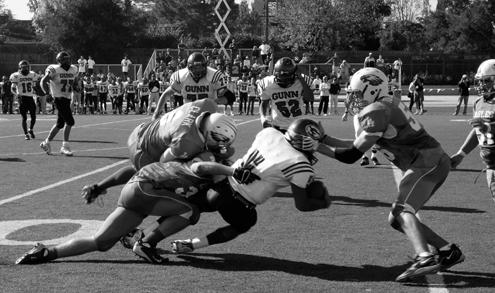 Seniors Kelly Clark and Doug Tomlinson and junior Tyler Stout tackle a Gunn running back during the Homecoming Game. The Eagles beat the Titans 23-21 and are in a 3-way tie for first in their league.
The football team has had its ups and downs this season, but the season's success or failure will all come down to the final game. After several key victories this year, the Eagles' last game of the season will be against rival Mountain View.
Coming off their recent victory at the Homecoming Game against Gunn, the Eagles are now in a three-way tie for first place in the El Camino Division.
Players and coaches on the team have a few key goals in mind to win against their rival.
"We need to run the ball," tight end senior Nicky Young said. "That's the most important thing. We also need to step up our passing game and throw more touchdowns. We just need to play better than Mountain View."
Other players have cited good defense as the key to their victories against both Gunn and Mountain View.
"We need to keep up our defense and stop [Mountain View's] running game," right guard senior Josiah Loh said. "Other than that, the offense can't lag, and they have to keep working at full speed."
Varsity Head Coach Bill Waggoner was more reserved in his predictions but still optimistic about the team's chances of winning.
"[The Spartans] are a good team," Waggoner said. "They have a good running back that we need to contain and a good quarterback and tight end that we need to watch out for."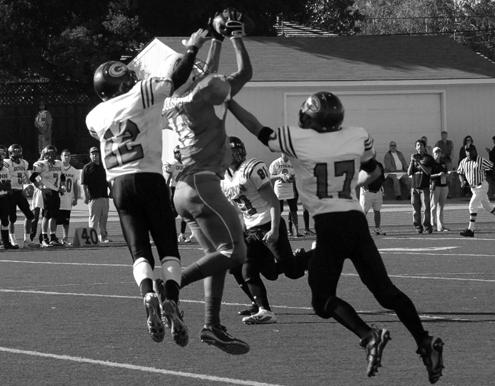 Senior wide receiver Roy Abousamra catches a 20-yard first down pass.
This is the team's first game against Mountain View since its move to the El Camino Division. According to Waggoner, this is a unique opportunity for the Eagles.
"They're in the De Anza Division, but they're going to be playing us after a few losses," Waggoner said. "That could be either good or bad. Plus, as a rival game, you never know how it's going to turn out."
In previous encounters with Mountain View, specifically in the last two seasons, the team has not fared as well.
"They played better than us, and we just weren't as prepared," Nicky said. "But now that we've won more games and we're in first place, we have a better chance."
The victory against Gunn has many of the athletes fired up and excited for the rest of the season. The team is planning on using some of the same strategies it used during Homecoming Game to beat Mountain View. Waggoner listed defensive turnovers, successful field goals and offensive improvement as the keys to victory in the Homecoming Game.
"We worked hard, kept fighting and believed we could win," Josiah said.
The coaching staff is relying on the players' hard work and experience to carry them to victory against Mountain View.
"We've got more quality, experienced players this year," Waggoner said. "There's a huge difference in the El Camino Division, but the guys know what De Anza's like and they'll be ready."
The game against Mountain View is today at 2:45 p.m. on the Tom Burt Field.
Leave a Comment