Football Gets Blitzed by Milpitas
On Saturday, September 30, the Eagles suffered their fourth loss of the season against the undefeated Milpitas Trojans. Los Altos had trouble capitalizing on offense, and their inability to contain Milpitas led to a final score of 50-7.
While Milpitas kicked off the game impressively, Los Altos struggled on both sides of the ball. The Eagles' offense consisted of unsuccessful drives, and their first quarter was summed up by a botched punt. On defense, they allowed the Trojans to steamroll through the field with three touchdowns and a field goal, ending the quarter with a score of 24-0.
"We got shellshocked a little early, and it put us behind," coach Trevor Pruitt said. "But our players played great, and it's just tough when you go against a team with different types of horses. But we played great, and I'm proud of them."
The second quarter began with the Trojans' offense staying hot and scoring within the first minute. A few minutes later, Milpitas' quarterback spun past a defender and fired a touchdown pass to a receiver, capping off another successful drive with a highlight play. On the other hand, the Eagles were unable to find a way through the Trojans' defense. The situation hit rock-bottom when senior running back Erik Skov took a hard fall on a punt return and had to be carted off of the field. Adding insult to injury, Milpitas scored once more to make the score 45-0 at the half.
"Everyone on this team matters, so if anyone gets injured, the whole team just feels it," senior Abel Rangel said. "Especially with a player like Skov—he's amazing. We have to play for him, and we just have to hope that he has a nice recovery. Knee injuries are the worst, so I just hope that everything goes well for him and that his future is not in jeopardy."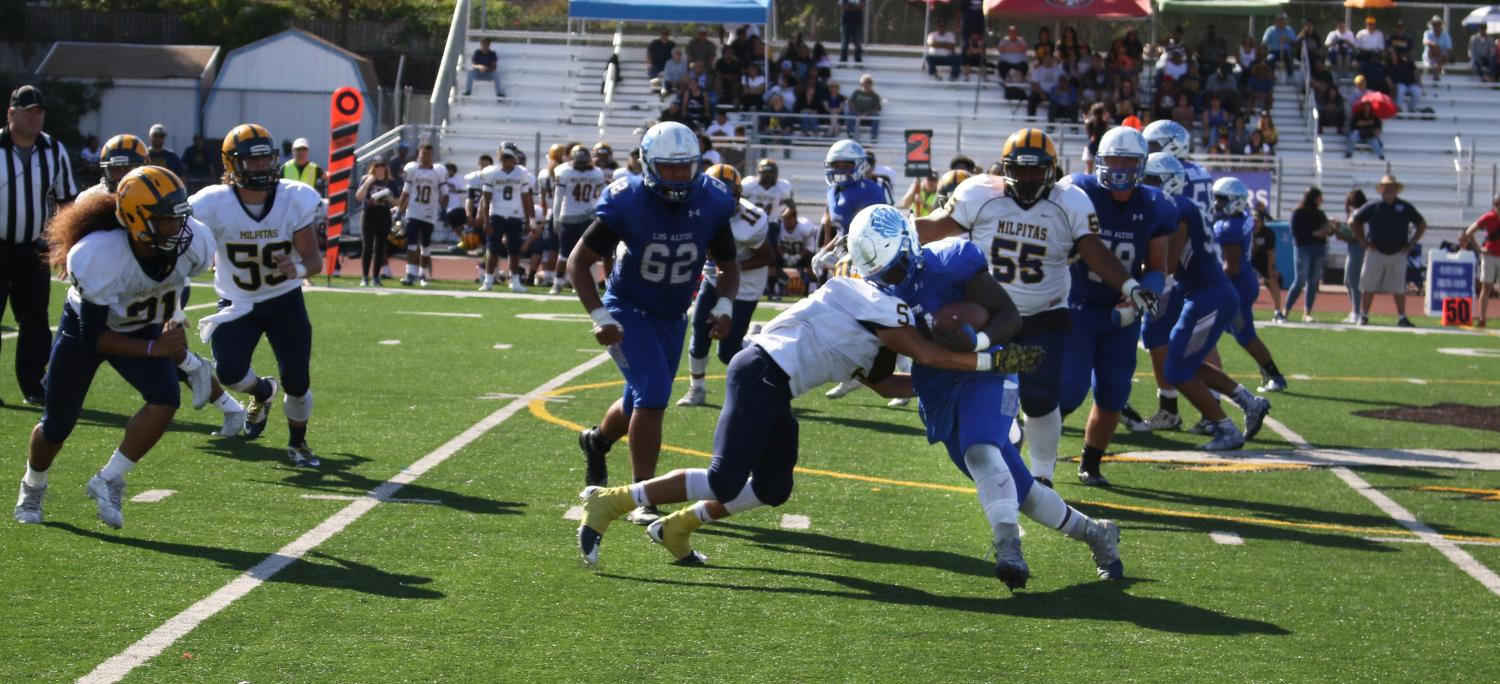 Sean Scott
Milpitas scored again at the start of the second half to add to the deficit. However, Los Altos was able to salvage a little hope with senior Evan Bauer-Murphy blocking the Trojans' field goal attempt. The momentum from the play carried into the Eagles' following drive, with senior captain Vincent Colodny finally breaking through Milpitas' defensive line. The Los Altos captain left a horde of Trojans in his wake as he scored an 80-yard touchdown. Unfortunately, the highlight play was too little too late for Los Altos, and a scoreless fourth quarter for both teams ended the game with a final score of 50-7.
"We can take away a lot [from this game]," said coach Pruitt. "We know the guys we can rely on, and it's every single player on our roster. We'll get a chance to evaluate film. Next week we're going to play another good Homestead team, and we expect to come out with a victory."
The Eagles have now hit the halfway mark of their 10-game season. Despite a 1-4 record, they remain optimistic regarding their playoff hopes. Erik's status is currently unknown, but the players understand that they need to step up in order to keep those hopes alive.
"We've got one win under our belt and we need three more, so I think we can easily get [to the playoffs]," Vincent said. "We have a lot of heart, and I think we fought hard the entire game. We've got five games left. We win three more of those and we're making the playoffs. I have full faith."
The Eagles will look for one of those wins in an away game against Homestead on Friday, October 6.