Football Falls to Hayward in Non-League Matchup
The football team lost to Hayward 55-22 on Friday, September 25. With two key players, junior fullback/linebacker Max Higareda and sophomore tight end/linebacker Vincent Colodny both injured, the Eagles were hard pressed for strong offensive plays.]
"Vincent and Max were key losses on both sides of the ball," quarterback senior Kyle Gounod said. "But injuries happen in football, and we have to be ready with whoever is healthy."
Hayward took the lead to start, scoring touchdowns late in the first quarter and early in the second quarter to bring the score to 14-0. On the other end, the Farmers' defense smothered the Eagles' offense, holding them to -3 total yards in the first quarter.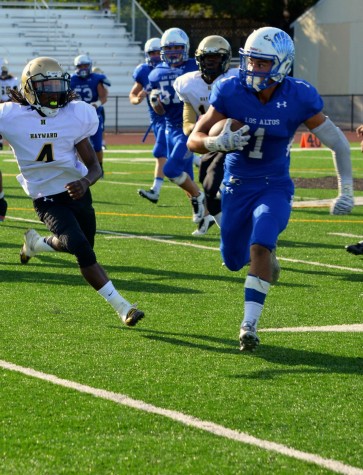 Los Altos broke onto the scoreboard in the second quarter when junior Albin Mollerstedt made a 32-yard field goal to make the score 14-3. On Hayward's next possession, the Eagles defense stuffed the Farmers on fourth down on their own 32-yard line to take the ball back. Kyle found senior receiver Drew Coan for 17 yards on the first play of the drive, and on the second senior Patrick Vargas ran the rest of the way in for a touchdown, making the score 14-10.
Two more touchdowns for Hayward and a 22-yard touchdown pass from Kyle to senior receiver Cristobal Tejada brought the score to 27-16 in favor of the Farmers.
At the start of the second half, Gounod completed two successive passes to Cristobal and senior Bailey Thayer, the second resulting in a touchdown.. However, Hayward came right back on the return of the kickoff, leaving the score at 34-22.
In the fourth quarter, the Farmers continued to extend their lead, and dominated the field with two more touchdowns, finishing the game at 55-22.
"It was a tough game," Kyle, who finished with two touchdowns and two interceptions, said. "They were a very good team, and they had some key plays that broke [the game] open. But I'm proud of our guys."
With the non-league part of the season coming to a close, the Eagles are going into league knowing what they need to work on.
"Our tough part of the season is over, now we move into league," Kyle said. "[It's] back to the basics. [You] can't win football without the basics."
Leave a Comment