Football coaches
May 7, 2020
The running back leaps into the air and catches the quarterback's perfect spiral. The stands go wild, cheering on the players for their triumph. Yet what many people don't see is the countless hours the coaches have spent improving their players' technique. The number of times the running back dropped that pass, the number of times his coach had to correct his technique, the hours of film his coaches took him through. At Los Altos, this has been exactly what the nine new additions to the coaching staff have worked on, as they focused on teaching the essential skills to the football team.
After the previous head coach Trevor Pruitt resigned due to challenges with the administration, Los Altos filtered through 22 applicants until finally choosing Dave DeGeronimo as head coach. DeGeronimo has been the uniting force behind the nine new members of the coaching staff.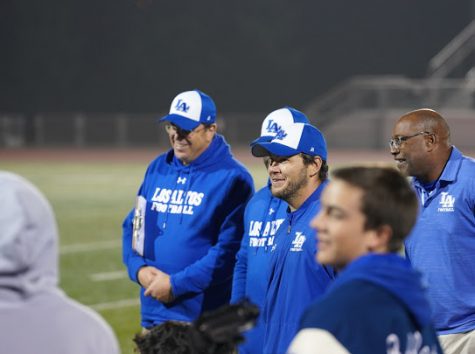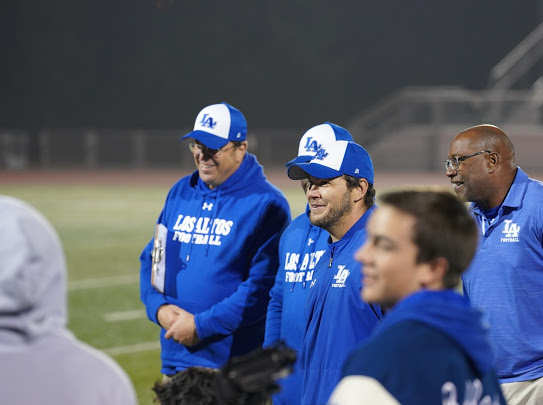 Commonly known as "Coach D" to his players, DeGeronimo has always had a passion for football; yet, his journey to becoming a coach was not straightforward. He was a football player in middle school and high school, but he hadn't fully committed to the sport as he split his time playing baseball and basketball. Finally, as DeGeronimo's positive experience in high school led him to play college football at the Catholic University in Washington, D.C.
Before becoming a coach, DeGeronimo and his wife owned No Excuses Fitness, a private fitness facility, for 27 years. During one of their exercise sessions, DeGeronimo was at Palo Alto High School to rent the field for their fitness class and, "on a whim," he asked the athletic director if they needed a football coach. He was then accepted and took on his first coaching job and then went back to school at Notre Dame University to get a teaching credential.
From there, his coaching career only grew, as he held positions at Palo Alto High School, Sacred Heart Prep and Aragon High School. This year, he brings a thorough knowledge of the do's and don't's of coaching to the Los Altos team. Combined with his experience teaching P.E. at Green Middle School for 14 years, DeGeronimo has worked to blend his personality as a teacher into his coaching style.
"Teaching and coaching are one and the same," DeGeromino said. "If you're a good teacher, you can be a great coach."
DeGeronimo's focus this season has been on building a football IQ, which is the basis of football understanding. His players have taken notice of this shift, which has been noticeably different from last year's coaching style.
"I think there's been a real change in the pace of practice," junior quarterback Charlie Kinne said. "It's more football oriented instead of [goofing around]. I've learned a lot more about football this year with the new coaches compared to the last two years at Los Altos."
Not only has DeGeronimo rebuilt the tactical foundations of the team, but he has worked to forge long lasting bonds with his team.
"It's a real brotherhood when you play football, a real connection, a real chemistry," DeGeronimo said.
This message of brotherhood was a common goal for the staff throughout the season, as offensive line Coach Steve Rochlin emphasizes.
"The field is just a symbol for life," Rochlin said. "When these guys work together, they learn teamwork and if they work hard, they can achieve certain things. If they don't pay attention or work hard, then their results won't be there."
Rochlin's coaching wisdom and passion stem from his experiences coaching football and lacrosse for more than 20 years. Rochlin has an extensive background as a multi-sport athlete, as he played football, crew and rugby at the University of California, Berkeley.
"I have a passion for coaching and developing," Rochlin said. "I've coached at the junior college level and high school. I've coached about four or five different schools and done all positions."
Currently, he coaches for the Alameda Attack lacrosse team and volunteers to coach the Los Altos team. Rochlin was recruited by DeGeronimo to join the coaching staff, as the two worked together at Palo Alto High School in the past.
Rochlin is not the only coach at Los Altos with old ties to DeGeronimo. Defensive coordinator and offensive line coach Vince Juarez also coached at Palo Alto High School with DeGeronimo and Rochlin.
"[Juarez] and I met when he was a freshman transfer at Palo Alto High School," DeGeronimo said. "I was a young coach there and he was a freshman football player. A very good one."
Juarez coached for 14 years after playing at the College of San Mateo. He has coached at Palo Alto High School, College of San Mateo, and several private schools.
"From a really young age, I enjoyed the technical and tactical aspects of the game," Juarez said. "So after I was done playing, I felt I had more football in me and I didn't want to be done with it."
Even when Juarez is off the field, he is never far from his athletes. He can be found around campus at Los Altos, working as an instructional one-to-one assistant for students. When off campus, he continues his mentoring skills while working as a trainer for police dogs.
Through a web of connections revealed from past jobs and schools, Los Altos also welcomed defensive back coaches Robert Mitchell and Nigel Smith, who is also the running back coach, to the varsity coaching staff.
For junior varsity, head coach Victor Martinez was the only remaining member of last year's staff to remain at Los Altos. As wide receiver and quarterback coach Nick Lobao, wide receiver and running back coach Wes Okumura and offensive and defensive line coach TJ Jackson were introduced to Los Altos.
"I just try to get our guys dialed in," Juarez said. "Playing their absolute very best on every play that they can so they can go out, have a good time, represent the school, community and the people that are in the stands and have fun."