Food Challenge: Burritozilla and Pho Garden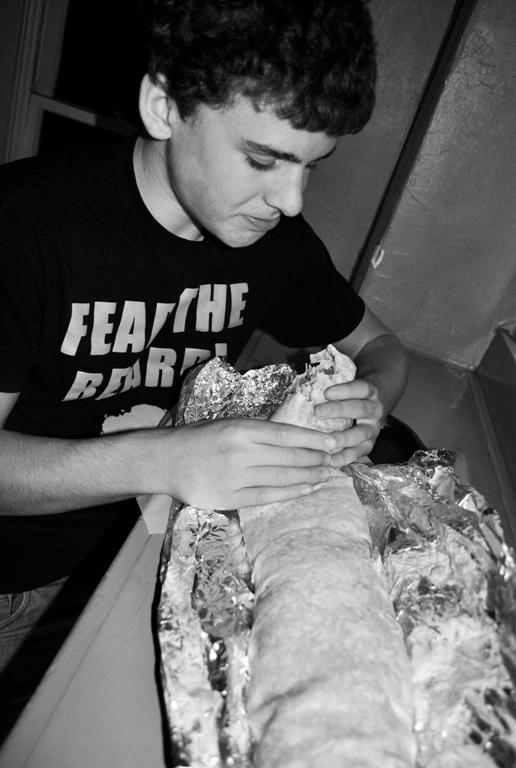 Burritozilla
I can't quite drop it just yet. Three months ago I choked (literally) in the process of devouring a monster of a hamburger, the "12 x 12" at In-n-Out. I don't know what the allure is. The glory? No, my feeble demeanor and even smaller stomach can't even strike fear into a four-year-old, let alone the God of all burritos. The only glory I get is maybe the humiliating comments about how I'm such a wuss. I don't think I can even classify that as glory.
A 5-pound, 17.5-inch-long mess of pinto beans, jack cheese, sour cream, guacamole, salsa and grilled chicken was waiting for me at Iguanas Restaurant. The overwhelming size strikes fear deep in your gut as you watch José, the creator of this beast, assemble the Burritozilla like some scientific freak. The mere folding of the burrito looks like a work of art in and of itself.
"You think you're gonna eat that?" a bystander jeered as his friends and four-year-old daughter made puking motions in the background.
The man's brother had just failed the challenge and he was much bigger than I. The sight of an average-sized Jewish teenager trying to put himself alongside the likes of Joey Chestnut, the Bay Area's favorite son, was comical. On "Man vs. Food," Chestnut made the Burritozilla look like a $0.50 Jack in the Box taco, slaying the beast in 3 minutes.
As I carried my foiled menace to the counter, a crowd began to form. Some had cameras while others just used their cell phones. I was drawing attention to myself for all the wrong reasons. Joey Chestnut got chants and "ahhs." I got chuckles and an overweight Hispanic guy showed me his belly. The little four-year-old girl started calling me "bobble head." You could say I didn't have home field advantage.
Maybe I should have said grace or something over the meal to get at least God on my side. Maybe I should have opened the wrapping delicately to not disturb the mighty Burritozilla. Anything to give me that extra something I needed to get over the hump that is my tiny stomach. Instead, I went straight at the burrito, rapidly downing monster bites. I had to make sure my mind didn't catch up to my mouth and stomach.
I finished the first third of the burrito in under five minutes. OK, so I'm no Chestnut, but I was working at a good pace. However, the burrito began to break. I will admit, I did begin to use a fork (a major no-no in professional eating) to finish off the scattered burrito fillings.
The crowd continued to jeer, and the non-believers became very outspoken. After each bite, I would look out the front window to see a man and his young daughter pointing and laughing at me. No love for the little white kid in San Jose.
I continued to chew and fight off the crowd's remarks. The puking motions performed by the bystanders only amplified. Some even pretended to squat over the toilet. I put my head down and tried to ignore them. For once in my life, I wanted to prove a non-believer, especially with something like this, wrong. My manhood was on the line.
But, of course, my stomach could not keep up with my dreams. At least four times, I felt like I was going to puke. The burrito began to look like a mess of human insides. It was absolutely disgusting. Every bite would spawn a dry heave. I asked for water, but got none.
"It'll fill your stomach," my friends said.
Sure enough, every bite turned into a struggle. My throat burned. At the halfway point, I was burritoed-out. I was more than full; I was bloated. More than two pounds of fried Mexican food had been digested. I could only imagine the scene that would occur in my bathroom several hours later; the last thing I wanted was to get constipated writing a newspaper article.
I left the building ashamed, but mostly woozy.
"Pathetic," my friends snarled.
Like I said, I don't know why I keep putting myself through this. I guess it's the free meal.

Pho Garden
The San Francisco Giant's team motto "torture" ran through my head. I stared down at the watery beef noodle soup hopelessly. My stomach swelled with overconsumption as I leaned back on my chair. My friends jeered at me for wasting their time.
"Wimp!" they called out.
Fifteen minutes before, I was a pho virgin, unable to pronouce the name properly and completely ignorant of the impossibility of completing the famed "Pho Challenge" at Pho Garden in Mountain View. I had come in cocky, ready to down the foreign soup as if it was oxygen. Then the massive bowl of pho was placed right in front of me. The waiter laughed, eager to see another customer, let alone a fifteen-year-old, try to conquer the two pounds of noodles and two pounds of combination beef. I had 60 minutes to gulp down the growing mess or I would have to pay $22 for this devirginizing. I felt dirty.
I started off quickly, forcing down noodle after noodle. Ten minutes had passed and I had only a quarter of the bowl finished. My friends all looked at me wide-eyed, enjoying the scene of me drowning in a bowl of pho. A puddle of spilled broth formed on the table. Broth leaked from my mouth as I inhaled noodle, meat and liquid like a vacuum. Common courtesy and table manners were exempt from this meal. I was in the heat of competition. Looking back on it, I probably would have just used my hands had I not been in a public restaurant.
Fifteen more minutes passed and I wasn't even half way done. Two girls wearing Palo Alto High School sweaters pointed and laughed at me from across the room. I looked up from the cloudy soup and noticed at least 10 pairs of eyes on me. This was torture. I gave the crowd an awkward smile. Everything on the inside wanted to come out. Nausea. Heart burn. Dismay. Defeat. I accepted them all. The waiter laughed some more when he dropped the check on the table. "Come again!" he taunted.
$22 lost.
Leave a Comment