Flutist Pursues Musical Composition
The art of music composition is constantly changing, especially with modern tools. While songwriters and mixers all compete with new beats and styles, senior Allison Yuen uses her innovative compositional style to leave her mark on today's ever-changing music scene.
Allison has played flute for almost 11 years. Though Allison has not been composing during her entire musical career, she has had an aptitude for creating music before she started formally composing.
"I've been writing down notes since middle school, but I didn't start taking lessons or formally writing pieces until freshman year," Allison said. "I'd always been really interested in music theory. I would ask the band director or my flute teacher to teach me theory stuff, so I knew a little bit going into it."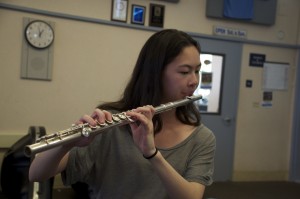 Taking beginning-level composition lessons was a huge step in Allison's musical career.
"One of my family friends is really into composition … He told me about his teacher and said I should take lessons. My parents were also enthusiastic about it, so I started," Allison said. "I wasn't really expecting to like it, but it just ended up being amazing. I started [composing] at the Curtis Institute of Music."
Allison uses the computer program Sibelius to compose her pieces. Over time, Allison has found the composition process that works for her style.
"I usually just wait until I think of something good, which can be a long time," Allison said. "The instrumentation is probably the hardest part of composition. You can have an idea for a piece, but the instruments you pick to write it for kind of determine everything about the piece, so it's a big decision."
In addition to composition, playing and performing is an important part of Allison's musical career. Along with her work as a solo artist, Allison plays flute in the school's wind ensemble.
"Playing in an orchestra or any large ensemble is a really amazing experience, so I really enjoy that," Allison said. "I find practicing to be relaxing … I practice every day if I can. For a while I'll just play whatever's in my head and then I'll just practice whatever I need to practice."
While Allison has dabbled in other instruments, flute has remained the main instrument during her musical career. However, her compositional career has allowed her to explore other instruments, as she has written for many instruments besides the one she plays.
"So far, I've composed most for Wind Ensemble, string quartet, flute and piccolo," Allison said. "At this stage I'm much more motivated to write for groups whom I can get in contact with to possibly perform my works."
Last year, Allison composed "Nightfall" for Wind Ensemble to play.
"Writing for Wind Ensemble was a big challenge, definitely," Allison said. "It's so hard to keep track of all the parts. There were some times when I would work from the top of the score down, and when I got down to percussion I'd be like 'I don't know what I want the percussion to do here.'"
Despite the challenges, Allison's efforts to compose a piece for Wind Ensemble paid off in the end.
"Hearing my composition played by the band was really amazing," Allison said. "I wrote for Wind Ensemble mostly just because I thought of an idea that was perfect for a Wind Ensemble. I was also motivated by the County Honor Band's competition, which was the Wind Ensemble's original reason for learning and playing the piece, but that didn't work out."
Allison enters her compositions in contests as often as she can. Allison typically sends in a composition that satisfies the requirements of the contest, and then waits to hear back for results. Her first win for her composition, "Purple Woods," has earned her the opportunity for the piece to be played by the MuSE string quartet in New York.
Allison's success in the composition world has inspired her to include music and composition in her future plans.
"I definitely want flute and composition to be a part of my life beyond high school," Allison said. "I'm considering double-majoring with one of them being music, but I'm most likely going to pursue other interests as my main career in life."
Leave a Comment