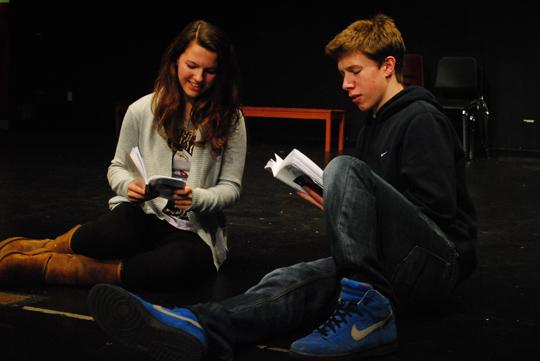 The Broken Box Theater Company will be performing the play "Flowers for Algernon," a tale about the struggles of mentally-challenged Charlie Gordon. The performances will take place from Friday, March 3 through Sunday, March 5 in the Eagle Theatre.
Senior Danny Giacomini, who will play the lead role as Charlie, believes that taking on the role will be no easy task.
"I knew it was going to be a challenge, but I wasn't nervous [to try out]," Danny said. "I think the way it's written allows me to show him being mentally-challenged in an inoffensive way."
Charlie works at a bakery as a man who is constantly teased by his co-workers and is too simple-minded to know he's being teased by his co-workers.
He then undergoes an operation and becomes increasingly smarter. Charlie eventually realizes how people have been treating him and gives them a taste of their own medicine.
Junior Annalise Tahran will play Charlie's love interest, Miss Kinnian. Senior Judd Yort will play Professor Nemur, who helps Charlie learn and progress. The roles of Charlie's doctors will be played by seniors Lauren Bednarski and Martin Luna as Doctor Strauss and Burt Seldon, respectively.
Story continues below advertisement
The cast rehearses every day during sixth period in the Eagle Theatre and the Broken Box room. Broken Box members will be preparing for "Flowers for Algernon" until March. Rehearsals are spent reading the show together, discussing the themes, characters and blocking (how and when the characters will move in each scene). Broken Box teacher Nancy Moran has specific ways she likes her students to process and prepare for the show.
"The whole process for this show is about nine weeks," Moran said. "Each actor had his or her part when we left for the holiday break, so many of them came back with some memorization complete. The set comes together as a group effort with whatever my vision is for the show. I then have a tech crew who designs sound, costumes and helps with stage management during the performances."
Moran is expecting "Flowers for Algernon" to be one of Broken Box's strongest shows due to the smooth rehearsals and immense commitment from the students to making the production a major success. Moran also hopes it will be a hit because of the show's meaning.
"I wanted to do this show because I think it has some important messages about how we should treat each other regardless of a person's abilities or disabilities," Moran said. "It also deals with the effects of playing God when it comes to scientific research. Although the play is from the late 1960s, I think the meaning behind it is timeless."
Danny also feels the show has an important meaning.
"It's a really interesting and emotional story [that] makes you think about how you treat other people and about how lucky you are to just be a part of society when people like Charlie Gordon try so hard to become smart," Danny said. "It makes you realize how cruel the world is, [and] shows how ignorance is bliss. But the irony is that [Charlie] isn't smart enough to realize it."
Tickets will be sold by Broken Box members for $5 in advance and $8 at the door.